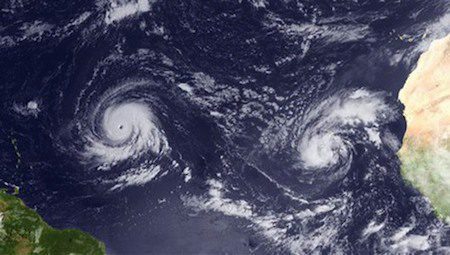 A record breaking hurricane season
The 2010 Hurricane season is still relatively young, but already one for the record books:
Last week, for only the second time since record-keeping began, two Category 4 storms were active simultaneously (Igor and Julia)
Julia grew into a Cat-4 hurricane by 5am last Wednesday (Sept. 15), making it the fourth Category 4 storm to form, and earliest on record that so many large storms have occurred in a single season.
The Category 4 storms formed within the shortest time span ever recorded.
Julia is the largest hurricane ever to form so far east, Earl the fourth largest so far north.
Karl became the eleventh named storm of the season, making 2010 the fifth most active year (so far) ever recorded for an Atlantic hurricane season (behind 2005, 1995, 1936, and 1933)
Update: Lisa has now formed – making for the twelfth named storm of the season thus far.
For more on the Atlantic hurricane season, how warming ocean surface temperatures are effecting hurricane formation, and what it all portends for a changing climate, read my latest post just published in Planetsave.com