This post first appeared on NRDC's Switchboard.
———————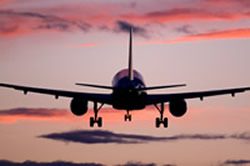 The European Union (EU) just finalized its plans to require that all flights to and from the EU will be required to reduce their global warming pollution. This is a long awaited plan from the EU.
Starting in 2012, all flights that take-off or land in the EU will have to limit their overall emissions and pay for a portion of them (15% of their emissions permits). The target is a proposed cut of 5% below their current levels (i.e., average rate annual rate between 2004 and 2006). The full details will be agreed as a part of the adoption of the EU's post-2012 climate package, expected to be agreed the end of this year.
This is a very good first step since no one else is grappling with this growing source of emissions — predicted to double by 2020. But even I wouldn't say it is the most aggressive strategy to battle global warming that I've heard.
Now the airlines aren't happy…anyone surprised? Over the years some in the industry have been open to the idea of being required to reduce their global warming pollution. In fact, some even supported the cap-and-trade system that the EU is going forward with. It caps overall emissions from the sector and allows companies to decide the best strategy to meet that cap. But, as the New York Times blog Green Inc. is reporting:
United States-based carriers and officials in Washington…also argue the Europeans should wait for a global deal covering flights in all countries. But the Europeans say there has been too little progress at the International Civil Aviation Organization, a U.N. body, so they are proceeding with their own system.
Well I hope that isn't the US carriers and the Bush Administration's real alternative plan. WAIT, WAIT! For over 5 years I participated in the negotiations of the International Civil Aviation Organization (ICAO) to develop a strategy to address global warming pollution — before I joined NRDC. This was a task given to ICAO back in 1997 when the Kyoto Protocol was signed. And, now 11 years later we are STILL WAITING for that strategy. I can attest first hand to the fact that we could be waiting a long time for ICAO to come forward with a real strategy. So, the EU's plan is a welcome alternative to this wait.
It is like boarding the airplane on time, pulling away from the gate, and sitting on the runway waiting to be cleared for take-off…for 11 years. Every once in a while the pilot gets on the loudspeaker and tells you that we are ready for take-off…and then he comes back an hour later with the same information. After a while you realize that this plane isn't taking off. That is essentially what ICAO has been doing. They come out with a statement on global warming every couple of years, conduct a new study, and say they are dealing with the issue. But their plan hasn't left the ground!
So, now the EU has given them a flight plan and they have been cleared for take-off. Next stop that important city of Reduced Global Warming.
While addressing global warming from aviation won't be the major cornerstone of the post-2012 international agreement to be reached in Copenhagen, it is being pushed as an integral part by a number of countries. So hopefully with a continued push by these countries, new leadership in the US, and a clear "flight path" this source of global warming will be included.