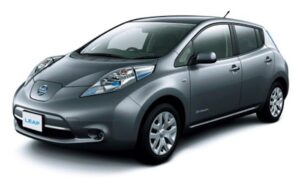 For those of you who always wanted an electric vehicle but the near $36,000 price tag was a deal-breaker: your time has come. Nissan took the first step, announcing last month an 18 percent price cut, bringing the Manufacturers Suggested Retail Price (MSRP) from $35,200 to just $28,800. That's still a lot of money, but brings the entirely electric vehicle into a more reasonable price range for many people.
Depending on your state's tax credits, combined with the feds, you may be able to purchase a Leaf for around $18,800. This is for the lowest model, the "S". The higher-end models, the SV and SL, also saw price drops – although less significant. The SV dropped 10 percent to $31,820 and the SL dropped 6 percent to $34,840.
The most impressive and optimistic factor here? The prices are being dropped not because of new Federal tax incentives, not because of outsourcing but because the economics allow the prices to drop. IE: the market has sustained these vehicles to a point that manufacturing costs have dropped. Bummer for people who rushed out and bought the $35,200 "first edition". Hats off to those folks who paved the way for the rest of us.
Shortly after Nissan's announcement, the manufacturer of the Leaf's only major competitor, GM, announced a similar price reduction in their "electric" Volt. For those unfamiliar, the volt can run on electricity for a period of time, then kick into gas mode for extended distance. Depending on your driving pattern, this is the next best thing for someone wanting an all-electric ride that also needs a longer driving range.
GM did not announce the exact price cut, but promised "thousands" off the original price. In a clear attempt to not be outdone by Nissan, GM followed suit. We have yet to see the exact price, suggesting GM was caught off guard and needs to crunch the numbers. They indicate advances in battery technology and electric motor designs are allowing them to sharpen the pencil on the price.
What's driving this price change? I'm no economist (read: D+ in macro economics in college), but US electric and hybrid sales rose 73 percent in 2012. According to Clean Technica, sales are expected to rise 14 percent in 2013. The former statistic makes clean vehicles the fastest growing sector of the American auto market. Remember when SUV's were the fastest growing segment? Me too, and I grin with delight to think of such a significant paradigm shift.