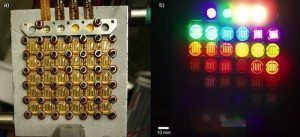 The National Institute of Standards and Technology (NIST) has developed a new process to test the performance of solar panels. It involves 32 different LEDs, each one generating their part of the spectrum of sunlight, and other equipment that measures the wavelength-dependent quantum efficiency.
The new testing system will be used in two ways. The first is to run every LED by itself for one minute, testing the solar module`s efficiency of the different parts of the spectrum one by one. This test will run for 32 minutes. The other test involves activating all the LEDs at once, to measure the entire blended spectrum, which only will take four seconds.
NIST is confident that their new way of testing the output of solar panels is superior to older methods because it is faster and produces more uniform illumination.
The development team for the new testing method is still working on improving the measurements. They aim is to match the energy intensity of the sun, producing results that are less than one percent within reality. Developers having access to more efficient and reliable testing would "accelerate all types of PV development and lower costs through more accurate assessment of performance".
NIST`s new testing system does look promising. It will be interesting to follow the project in the next couple of months and years – maybe it will lead to the development of new solar devices that are capable of converting sunlight more efficiently than current models.
Source: NIST.gov