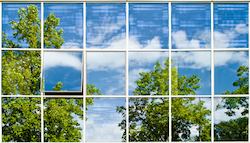 Corporate Social Responsibility (CSR) is a concept whereby organizations acknowledge their impact by monitoring their activities and adhering to laws, ethical standards, and international norms. In a short span of time, CSR has grown from a fringe activity to a highly visible priority.
To help reduce their footprints, some businesses are employing rigorous assessment tools to gauge their environmental performance. According to a recent press release from the Global Reporting Initiative (GRI), there has been a significant increase in the number of companies publicly disclosing their performance on a range of key sustainability indicators. GRI is now tracking over 1000 organizations worldwide who issued sustainability reports, a 46 percent increase from the previous year.
Companies listed in the world's leading stock markets are increasingly issuing GRI-based sustainability reports. Recently, a report entitled Fiduciary II, produced by the UN's environmental arm in collaboration with over 180 financial institutions worldwide, suggested that it should be a legal responsibility to integrate environmental, social, and governance (ESG) considerations into investment decisions.
As GRI Chief Executive Ernst Ligteringen said, "We face a sustainability crisis that could ultimately even threaten our very existence as a species, we need to know how our companies are positioned to rise to the challenges, provide solutions and adapt to coming changes. Thus public access to organizations' economic, environmental and social performance is necessary if we are to inform ourselves of the effects of the choices we make in the purchase of products and services and the effects of the business models we adopt."
Although many businesses are voluntarily participating in diverse programs to help the environment, government involvement will rapidly accelerate the advance of sustainable enterprises. Efforts are already underway to mandate greater environmental accountability. The GRI Board of Directors' Amsterdam Declaration recently called on governments to introduce policies that require companies to report their sustainability performance. Early in July, all four former leaders of the United Nations Environment Program (UNEP), along with current UNEP Executive Director Achim Steiner, joined a large group of environmental leaders to strongly urge Green Governance.
Some businesses are already engaged in serious sustainable efforts ahead of government action. Recently, 20 of these sustainable US business leaders were recognized by the US Environmental Protection Agency (EPA) Green Power Partnership program. These top performing EPA partners were acknowledged for generating green electricity on site. By using green power generated from renewable resources, the partners' contributions are helping to expand America's renewable energy portfolio, improve the nation's energy security, and reduce their organizations' greenhouse gas emissions.
Combined, these top 20 partners are generating green power equivalent to the electricity needs of 61,000 American homes annually. These partners are also reducing carbon dioxide emissions equivalent to the emissions of 70,000 passenger vehicles per year.
EPA Administrator Lisa P. Jackson claimed, "These companies are leading a nationwide move to the clean energy economy, one that can create millions of jobs, reduce our dependence on foreign oil, and protect against global climate change. Our Green Power Partnership leaders are setting the standard for our clean energy future."
Overall, the EPA's 1,100 partners are buying more than 16 billion kWh of green power annually, equivalent to the carbon dioxide emissions from the electricity consumed by more than 1.6 million American homes.
Cost savings is only one of the incentives driving a more responsible approach to business. Based on the research of Kevin S. Groves, Assistant Professor of Organizational Theory and Management at the Graziadio School of Business and Management, values-centered leaders are more successful in the long term.
Whether in the form of CSR, ESG, or values-centered leadership, businesses are increasingly confronted with their environmental responsibilities. The prioritization of human welfare and the development of sustainable approaches to environmental management are enhancing business models and improving the global economy.
————
Richard Matthews is a consultant, eco-entrepreneur, sustainable investor, and writer. He is the author of THE GREEN MARKET, one of the Web's most comprehensive resources for information and tools on sustainability. He is also the author of numerous articles on sustainable positioning, green investing, enviro-politics, and eco-economics.