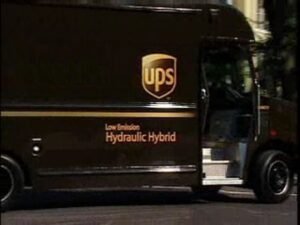 Writing for TriplePundit.com, and at the invitation of UPS, I will be attending a press conference in Atlanta on Monday, October 27th for the unveiling of their latest alternative fuel vehicles.
On hand will be David Abney, Chief Operating Officer for UPS; Chris Grundler, deputy director of transportation and air quality for the EPA; Sandy Cutler, CEO of Eaton Corporation; and Steve Guilluame, general manager of medium trucks for Navistar Corporation.
Since the 1930's, UPS has been a pioneer in alternative fuel research for their fleet of delivery vehicles, something I've written about extensively for TriplePundit.com. I am happy they chose me to represent the online media to cover their next step in this research.
You can be there too!
TriplePundit will have an exclusive streaming web feed of the event on Monday October 27th starting at 2PM Eastern. If you can, check it out. After the event there is a panel discussion with the participants and I will have an opportunity to speak with each individually.
We'll find out soon what UPS has up their sleeve in the next step of alternative fuel vehicle technology.