Going to the highest bidder: America's natural heritage
As of this writing, the homepage of outdoor outfitter Patagonia has one simple, stark message:
The president stole your land
Under the guise of "giving the land back to the people", President Trump did the exact opposite, removing federal protection from 2 million acres of America's natural heritage.
In a ceremony at the Utah Statehouse, the president said that the largest rollback of federal land protection "…will usher in a bright new future of wonder and wealth."
In fact, what it does is shrink Bears Ears by 85 percent and Grand Staircase-Escalante by half.
The common argument that land is needed for energy and economic development is specious. 90 percent of U.S. public lands are open to oil and gas development. The outdoor recreation industry provides 7.6 million jobs, generating $887 billion in annual consumer spending.
That Mr. Trump seeks to hand the remaining 10 percent to development underscores the damage his presidency will do in an unfolding American tragedy.
Click on the image below to find out more and take action.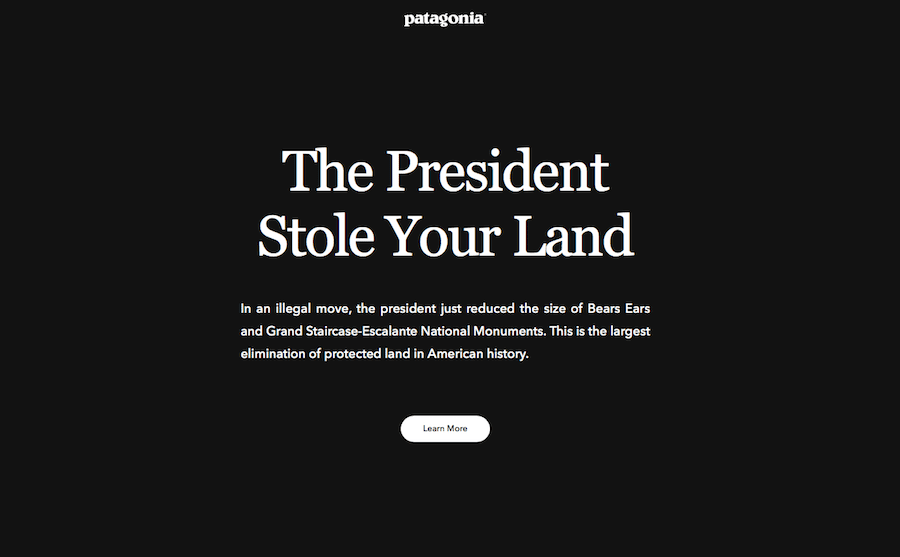 We have fallen heirs to the most glorious heritage a people ever received, and each one must do his part if we wish to show that the nation is worthy of its good fortune.

— Teddy Roosevelt
---
Image courtesy of the Bureau of Land Management