Global warming poses the single greatest threat to economies and societies the world over, President Obama stated during this week's address to the nation. Presented this past Saturday, April 18 environmental health and sustainability was a main theme of the President's latest weekly video address, which marked the 45th annual celebration of Earth Day.
Reducing greenhouse gas (GHG) emissions and environmental degradation have been focal points of the President's second term in office. During this period, he has negotiated historic agreements to combat climate change by reducing GHG emissions with both China and India, the world's largest and fourth largest source of GHG emissions. The U.S. ranks second.
Also of precedent-setting significance, the Obama administration is in the process of reviewing and assimilating public feedback on the Clean Power Plan, which would require state authorities to enact regulations aimed at reducing carbon emissions from existing power plants – the largest single source of U.S. GHG emissions – by more than 25 percent by 2030.
Unfortunately, efforts by the U.S. and the 30-odd other nations that have submitted carbon emissions reduction plans to the UN Framework Convention on Climate Change (UNFCCC) in advance of the UN climate change treaty conference to take place in Paris this December fall far short of being deep enough to prevent carbon dioxide and GHG emissions reaching and exceeding levels that climate scientists say will push the Earth's climate system beyond a critical tipping point, according to a report released this past week.
Climate change: Less talk, more action
A study released by Climate Action Tracker of climate change action plans thus far submitted to the UNFCCC indicates that proposed GHG emissions reductions "are not ambitious enough to limit warming to the internationally agreed 2°C."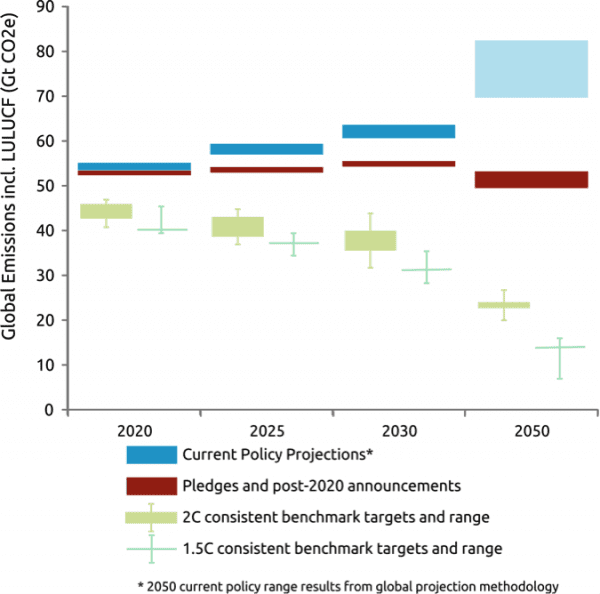 The likelihood that actual GHG emissions cuts over the next decade and more will be insufficient to limit global warming to 2°C or less increases the likelihood that this and coming generations will have to bear the risks and costs of severe, widespread changes in weather patterns and the availability of fundamental natural and ecosystem resources, including clean air, potable water, arable land and seafood stocks.
Accelerating efforts to reduce dependence on fossil fuels and reduce energy consumption are the main mechanisms via which governments, businesses, cities and communities worldwide are trying to avoid having to bear the worst effects of climate change.
A wide variety of organizations – religious institutions as well as city and national governments , NGOs and private-sector businesses – are taking actions to reduce energy consumption, GHG emissions and the toll our consumer-driven economies and modern lifestyles are taking on ecosystems and the environment.
Phasing out fossil fuel subsidies

Reducing fossil-fuel subsidies – which continue to dwarf those granted to much more environmentally and socially beneficial clean energy and energy efficiency organizations – would go a long way towards limiting the potentially catastrophic effects of rapid climate change.
Adding their voice to those calling on world leaders to enact more substantive and meaningful actions to reduce GHG emissions, a coalition of eight national governments, with the support of the International Institute for Sustainable Development (IISD), are calling "for the phase-out of subsidies to fossil fuels in the lead-up" to December's UN climate talks.
Dubbing the coalition the Friends of Fossil Fuel Subsidy Reform, in a communiqué states: "The International Energy Agency (IEA) highlights fossil-fuel subsidy reform as a key component of a set of energy measures to combat climate change and estimates that even a partial phase-out of fossil-fuel subsidies would generate 12 percent of the total abatement needed by 2020 to keep the door open to the 2°C target. Accelerating the reform of fossil-fuel subsidies is therefore an urgent priority."
Fossil fuel subsidy reform, they continue, would support "our shared global commitment to sustainable development," which serves as the foundation for the UN's overarching strategic plans and goals post-2015.
The group also highlights the regressive nature of fossil fuel subsidies, which exact a heavier price on those with lower incomes. As stated in the communique:
"The International Monetary Fund views that fossil fuel prices should reflect not only supply costs but also environmental impacts like climate change and the health costs of local air pollution. The majority of fossil-fuel subsidies are also socially regressive, with benefits disproportionately skewed toward middle- and upper-middle income households."
Freeing up funds for sustainable development

The removal of fossil fuel subsidies, they point out, would also "free up financing for sustainable development and support both national and international environmental priorities. At the same time, accelerated subsidy reform needs to be undertaken alongside measures that protect the poor and vulnerable groups from the impact of higher energy prices."
The Friends coalition counts Costa Rica, Denmark, Ethiopia, Finland, New Zealand, Norway, Sweden and Switzerland as members. They emphasize "the fact that fossil-fuel subsidies are harmful to the environment and economic development." Outside the Friends coalition, France has joined in calling on governments to eliminate fossil fuel subsidies.
"By endorsing this Communiqué, we highlight the importance of fossil-fuel subsidy reform as a key climate change mitigation policy with clear economic, social and environmental benefits. I am proud that Denmark has been leading in supporting fossil-fuel subsidy reform through the past years and would hope for others to join our efforts going forward," said Denmark's Minister of Trade and Development Cooperation, Mogens Jensen.
Added Tim Groser, New Zealand's Minister for Trade and Climate Change Issues, "By launching this communiqué we invite countries and other actors to come forward and publicly express their support to phasing out harmful fossil-fuel subsidies. The timing is right with Paris on the horizon and a growing number of countries considering or undertaking reform."
*Images credit: 1) Global Citizen; 2) Climate Action Tracker; 3) IEA