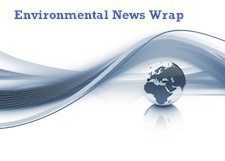 GlobalWarmingisReal contributor Anders Hellum-Alexander wraps-up and comments on the climate and environmental news headlines for the past week:
UN Climate Talks pick up again in Qatar. And, the media is reporting that nothing will be accomplished as the Kyoto protocol expires. The problem with all of this is that we need to act now, and if we don't do prevention now we will have to do a lot of painful adaptation later. The agenda for this round of talks is specific though and hopefully some progress can made with the issues being discussed.
Climate change models accelerate dramatically when the expected release of greenhouse gases from melting permafrost is taken into account. Slowly, as more time passes, we update our models and see the tipping point, the point of no return, the shift, the peak seems closer than we thought.
China is the exporter to the world, and now they are looking to install their own solar PV modules at home. Chinese companies like Yingli need the boost in sales after all the tariffs created by the USA and now Europe is investigating Chinese solar imports.
SolarCity, the largest installer of residential PV Solar in the US is debuting its IPO in December, if it stays on track. Many solar manufacturers have had failed their IPO attempts this year, but SolarCity is an installer and that market is completely different.
Here is an article from The Hill on US Energy Policy that I completely disagree with, and made a comment explaining why.
Poland is venturing into off-shore wind farms to meet European Union Renewable Energy targets.
Climate change models are unreliable, skeptics say. Well, that's because we messed with a system that is more complex than we will ever understand. Time to look at the empirical evidence in any case.
Lamar Smith, an anti-Science Congressman might be appointed to Chair the House Committee on Science, Space and Technology. Any commentary or joke would be too obvious so just revel in the irony.