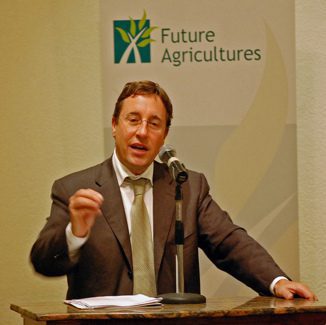 With world population expected to reach 9 billion by 2050, large investments in ecological infrastructure services need to be made, and fast, if more in the way of food, water, energy and social crises are to be avoided, asserted UN Under-Secretary General and UNEP Executive Director Achim Steiner as the latest bi-annual meeting of the UN Commission on Sustainable Development opened in New York City last week.
Using the occasion to launch its latest report, "The Environmental Food Crisis," the UN Environment Programme (UNEP) highlights the increasing threats and costs of food insecurity and environmental degradation while drawing attention to a range of promising pathways to address them.
The present state of the art in economic models, policies and political systems are proving ineffectual when it comes to addressing broad public interest and accounting for public goods, Steiner stated. "The economic models and management regimes of the 20th century are unlikely to serve humanity well on a planet of 6 billion, rising to over 9 billion by 2050," according to a media release.
Green Economy Solution
"Reversing environmental degradation and investing in our ecological infrastructure such as forests, soils and water bodies is one part of the Green Economy solution – these are the nature-based inputs and infrastructure for agriculture in the first place. The other key is managing them and the food chain in far more efficient ways", he said.
Carbon markets and renewable energy can play important roles in addressing these issues, as well as reducing poverty and improving the lives of millions, but only if effective measures to include agriculture, forest and environmental conservation, and micro-finance opportunities are built into them, according to Steiner.
The "American Clean and Energy Security Act of 2009" currently being torn apart and watered down by US Congresspeople makes no mention of trying to cap emissions, fossil fuel use and environmental degradation to do with agriculture.
Averting Future Crises
Invasive pests, land degradation, erosion, drought and climate change have already caused agricultural yields to drop worldwide, in some instances by as much as 50%, according to the UNEP report. The problem is especially acute in Africa, where population is forecast to rise from 770 million to 1.75 billion by mid-century. Environmental degradation, climate change and ineffectual, if not outright destructive, economic decisions and policies have seen agricultural yields drop off a cliff's edge there, raising the specter of food crises that will dwarf the one that has plunged 100 million people into and hunger poverty during the last two years.
Rather than focusing on promoting organic and sustainable farming education and methods, international aid continues to focus on providing tools, fertilizer and seeds, benefiting industrial world exporting corporations rather than taking an approach tailored to meet the needs of local populations.
A recent report put out by UNEP and the UN Conference on Trade and Development surveyed 114 small-scale farms in 24 African countries that have switched to organic or near-organic production methods.
The study found that organic practices outperformed conventional and chemical-intensive farming, as well as providing significant environmental benefits, such as improved soil fertility, better water retention and resistance to drought. Yields more than doubled, with yields in East Africa increasing 128%.
Water resource conservation and improvements are a third aspect of any potentially comprehensive and effective natural resource management strategy, though these are not addressed in the UNEP report.
Ironically, enough rain falls in Africa to meet the needs of 13 billion people, more than double the world's current population, according to the report. Unfortunately, little of it is collected and stored in sustainable fashion, such as small- and large-scale rainwater harvesting.