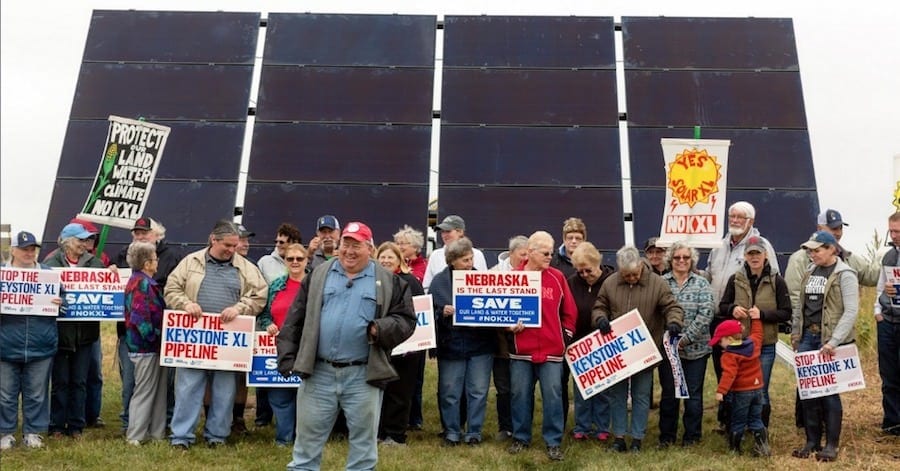 Activists opposing the Keystone XL pipeline have a new way to fight it using solar panels.
Solar XL is a coalition led by indigenous activists. The campaign aims to install solar panels along the route of the pipeline in Nebraska and South Dakota. The solar panels will supply power to the homes, farms and indigenous spirit camps of communities fighting against the pipeline. The coalition behind Solar XL includes the Indigenous Environmental Network, Native Organizers Alliance, Brave Heart Society, Dakota Rural Action, Bold Nebraska, and 350.org. Crowdfunding will support the campaign.
The Solar XL campaign supported solar installations in Nebraska in summer 2017 on land that farmers and ranchers would have been forced to give up to TransCanada. The new installations along the pipeline's alternate route will include more solar arrays on farmland in Nebraska and mobile solar units on unceded indigenous territory near the Yankton Sioux and Cheyenne River Sioux Reservations in South Dakota.
"Projects like Solar XL, built with grassroots financial support and owned by Indigenous communities and family farmers, are our best hope for a future of sustainable energy that delivers us from dependence on fossil fuels and the harm caused by extractive industries," said Judith LeBlanc (Caddo), Director, Native Organizers Alliance, a national Native organizing and training network, in a statement.
"Putting solar in the path of this pipeline models the massive overhaul our energy system needs to stop the worst of climate change," said May Boeve, 350.org Executive Director.
Activists oppose Keystone over environmental concerns
Keystone XL pipeline would extend from Alberta, Canada to Nebraska and then to refineries in Gulf Coast refineries in Texas. TransCanada, which commissioned the pipeline, bills it as "a critical infrastructure project for the economic strength and energy security of the United States." Over 800,000 barrels of oil would flow daily through the pipeline.
Activists have opposed Keystone from the beginning. Environmentalists charge that the pipeline will cause leaks. The pipeline will carry tar sands oil which is "thicker, more acidic, and more corrosive than lighter conventional crude, and this ups the likelihood that a pipeline carrying it will leak," according to the Natural Resources Defense Council. Tar sands oil is more difficult to clean up when there is a massive leak. TransCanada's original Keystone Pipeline System leaked 14 times during its first year of operations, a study by Cornell University Global Labor Institute found. One leak in North Dakota caused a 60-foot, 21,000-gallon geyser of tar sands to gush.
Farmers deed land in the path of Keystone to indigenous tribe
Farmers in Neligh, Nebraska deeded a 1.6-acre plot of native corn to the Ponca, a tribe indigenous to the area, reports the Omaha World-Herald. The Ponca are opposed to the pipeline and the plot of land is now the only one on the pipeline route in the U.S. that is owned by an indigenous tribe.
"We want to protect this land. We don't want to see a pipeline go through," said Larry Wright Jr., the chairman of the Ponca Tribe of Nebraska. "If this adds another layer (of opposition) to that issue, we're happy to be part of that."