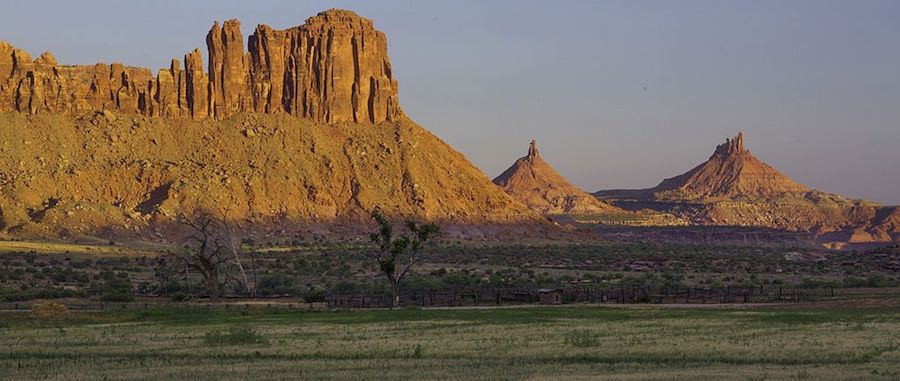 A plan by Interior Secretary Ryan Zinke, obtained by the Associated Press, recommends that President Trump shrink 10 national monuments. A national monument is a land or historic area the Congress or President has given permanent protection to through the Antiquities Act of 1906. An executive order issued by President Trump in April instructed Zinke to review 27 monuments designated under the Antiquities Act of 1906 since January 1, 1996.
How the west was lost
Zinke's plan includes what the Washington Post describes as "four large national monuments in the West." Those four monuments are Bears Ears and Grand Staircase-Escalante in Utah, Gold Butte in Nevada and Cascade-Siskiyou in Oregon. They cover a combined area of over 3.6 million acres, larger than the state of Connecticut.
Bears Ears is 1.3 acres, considered sacred to Native Americans, and contains many archaeological sites. The plan would also allow logging at a monument in Maine, and recommends more hunting, fishing, and grazing at two monuments in New Mexico.
Zinke stated at the beginning of the commenting period that the Interior Department "is the steward of America's greatest treasures and the manager of one-fifth of our land." He added that "part of being a good steward is being a good neighbor and listening to the American people who we represent."
Overwhelming support for leaving it alone
The formal public comment period for the review of the monuments ended on July 10. Over 1.2 million comments were received on regulations.gov and thousands through the mail, according to the Interior Department. An analysis by the Center for Western Priorities of over 650,000 comments submitted found that 98 percent expressed support for keeping or expanding national monuments designations. Only one percent wanted Trump to shrink or erase monument boundaries.
One commenter said:
"Please, do not rescind or reduce the size of any of our nation's national monuments. Please, do not allow natural resource extraction on any of our public lands."
An analysis of the comments submitted on just the designation of Bears Ears National Monument was overwhelmingly in support (96 percent) of national monuments designations, with only three percent expressing opposition.
A poll taken by the Western Values project found that Zinke's popularity is shrinking in Montana, his home state. Taken just after the release of his recommendation to shrink national monuments, the poll shows that his approval rating decreased by seven percent since July.
A "sham"
"This sham review from Secretary Zinke has been unpopular from beginning to end, and it will continue to be met with opposition by the vast majority of Westerners and Americans," said Chris Saeger, Executive Director of the Western Values Project.
"Millions of Americans have voiced their opposition to this scheme to sell out our beloved lands and waters to drilling, mining and logging interests," said Jamie Williams, president of The Wilderness Society.
Other environmental groups are also opposed to Zinke's leaked plan. The plan "threatens the very idea of shared public spaces open to all," said Sierra Club Executive Director Michael Brune. It would leave the protection of sites sacred to Native Americans and natural wonders "to the goodwill of polluting industries," he added.
Zinke is "promoting traditional abuses" through his plan, said Randi Spivak, public lands program director at the Center for Biological Diversity, like logging, mining, grazing, fracking, and drilling. "Zinke and Trump are displaying their disdain for these magnificent public lands and the millions of people who demanded they remain protected," he said.
---
Image credit: US Bureau of Land Management (http://mypubliclands.tumblr.com/); via Wikimedia Commons