The oblivious president
On Tuesday, August 29, as Hurricane Harvey lingered over Houston dumping an "unprecedented" four feet of rain, plus a few inches, the presidential entourage landed in Corpus Christi. Three days earlier Hurricane Harvey came ashore north of Corpus, pounding the small community of Rockport as a Category 4 storm.
South Texas took the brunt of what is becoming a new normal: other-worldly weather events. It's hard to know how to respond to an unmitigated disaster. The president's role as consoler-in-chief is critical in times of widespread tragedy, though awkward in the best of circumstances. The last thing local authorities need is the small army required to transport the president.
This is true of any president, a rare example of bipartisanship. What the president says, how he comports himself, is another matter. Much has already been written about President Trump's narcissist-tinged, tone-deaf response while on the ground in Texas.
But beyond his grating, bumptious manner, there is a much sadder irony in the president's comments, revealing a stark disconnect between what he does and his understanding of what he is doing.
The best crisis ever
"Wow – Now experts are calling #Harvey a once in 500-year flood! We have an all out effort going, and going well!" – Presidential tweet, August 27, 2017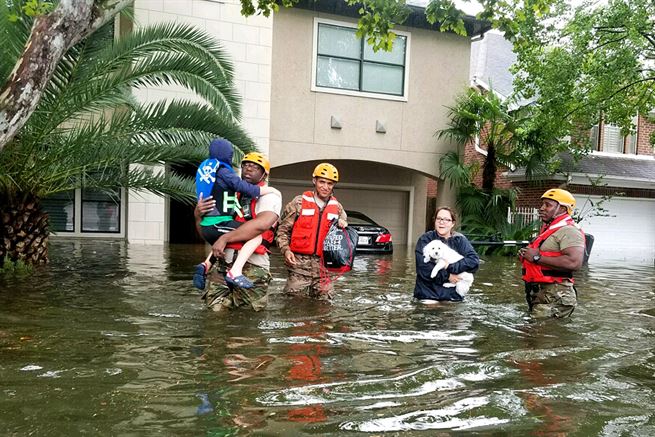 Wow indeed, as Harvey is third "500-year-flood" to hit the Houston area in as many years and by far the worst. Never fear, Donal Trump is on it. Acknowledging it was too soon to congratulate each other, President Trump boasted at a meeting in Austin on Tuesday that his administration would meet the "epic" 15 trillion gallons of water dropped on Houston "better than ever before."
Years from now people will say "this is how to do it."
I hope so because with each passing year, meeting unprecedented natural disasters will demand the best of us. Aging infrastructure stretched beyond its design parameters, human displacement, resource constraints, economic, physical, and emotional devastation. We best be prepared. Hope for the best, plan for the worst.
Trump has no plan, and it's the best
Mr. Trump rode to power on a populist message of remembering the forgotten Americans overrun by a world changing too fast. Promising to make us all "sick and tired of winning," people ate it up. At least enough people to get him elected.
The problem with winning the presidency is then you become president. The job of selling is done, now it is time to execute. To execute you need a plan. President Trump's lack of a coherent plan for his presidency is evident in his approach to climate change, though hardly exclusive to this one issue.
To be clear, there is nothing President Trump could have done to prevent Harvey's devastation. Any poor decisions contributing to the storm's impact were made long before he became president. But decisions he and his cabinet are now implementing ensures more devastation, more human and economic loss, and more "never before witnessed" catastrophic weather in the decades to come.
Trump's plan? Undo whatever Obama did, including a policy mandate to improve infrastructure resilience in high-risk flood plains. The Trump administration believes it best to rebuild infrastructure destroyed in Harvey-like storms just "as it was before." Like it will never be again.
If not now, then when?
There is one thing Harvey makes crystal clear, at least to me. We are out of time. The energy, heat, and water vapor producing Harvey was baked into the system many years ago. The sprawling concrete urban planning of cities like Houston is considered adequate, even as the city drowns.
Yet, the narrative from the Trump administration is that discussing the risk of climate change during natural disasters is "opportunistic." A chance for the left wing media to politicize the issue, thereby diabolically politicizing the issue.
The obvious fact is that Trump and his people will never find a good time to discuss climate change. Not now, not ever. Expunge the phrase from official documents, defund research, turn off satellites monitoring the biosphere. Make false promises to coal miners and blame it on "fake news" when it doesn't work out.
This is the world in which Donald Trump lives. A world very different from the one you and I will find ourselves all too soon. For many that world has already arrived on their doorstep with a vengeance.
The sad irony of Donald Trump
It's safe to say that President Trump does not "believe" in climate change. Or maybe he does. He softened his rhetoric about the Paris Agreement when treated well in Paris and allowed to flirt with Macron's wife.
From my distant (but all too close) perch, it seems Mr. Trump doesn't believe in much beyond notoriety and monetary wealth.
He says things like "they're gonna take out the coal and clean it." As if there's a job for someone with a scrub brush and determination to make that coal sparkle.
He withdraws the United States from the hard-won Paris Agreement, claiming the rest of the world will no longer be laughing at us.
In Trump's world, the subtle nuance of a truly empathetic response to Hurricane Harvey, perhaps to anything, is simply beyond his abilities. He can't make the connection between a successive series of unprecedented extreme weather events and a changing climate.
President Trump is oblivious. The real tragedy is that he just doesn't care.
We can still mitigate the impacts of climate change headed our way. We must. Be we focus on adaptation to a new world.
Hang on, we're in for a tough ride.
---
Images credits: U.S. Department of Defense