More than 1,200 high-level representatives across the government, public and private sector business world met in Austria May 11-12 to discuss the nuts and bolts, and ways to achieve, the UN's Sustainable Development Goals (SDGs). Specifically, those related to the twin issues of climate change and energy.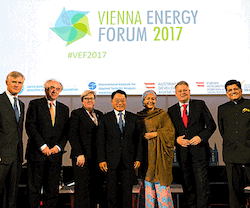 During the Vienna Energy Forum, the UN International Development Organization (UNIDO), the event's organizer, announced it was joining with Italian multinational energy services corporation ENEL to work with multiple key stakeholders and UN Sustainable Energy for All (SE4ALL) to accelerate sustainable energy investment and projects worldwide.
While hailed for their noble intentions, multilateral programs such as SE4ALL have been criticized for their apparent inability to reach down and provide funding, support, and employment opportunities at the local, "grassroots" level. That's an issue UNIDO and ENEL aim to tackle with the sustainable energy accelerator initiative.
Key stakeholders in the sustainable energy transition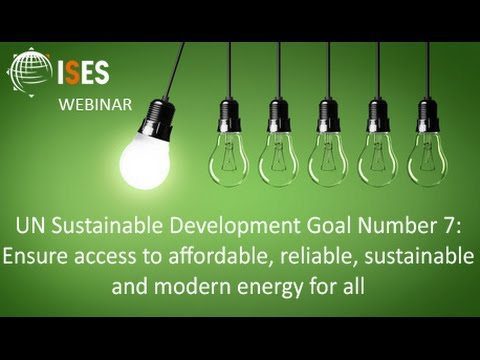 "Business and industry are key stakeholders for increasing electrification rates at the speed and scale we need," Rachel Kyte, SEforALL CEO and Special Representative of the UN Secretary-General for Sustainable Energy, stated during the Vienna Energy Forum:
"We're committed to working with all of our partners to create real solutions that will deliver universal access to affordable, reliable and modern energy services for all and reach SDG 7 goals."
That said, Kyte also pointed out the world community of nations is well behind schedule in meeting the UN's strategic sustainable energy goals. "We are not on track to meet our goal of universal access by 2030, which is also the Sustainable Development Goal for energy," Kyte was quoted in an IPS News report.
"We must all go further, faster—together," Kyte told more than 1500 delegates and government ministers at the 2017 version of the biannual Vienna Energy Forum this week, organized by the United Nations Industrial Development Organization (UNIDO).
Kyte highlighted member nations' pledge to achieve UN SDG 7 in particular. The UN sustainable energy goal for 2030, she reminded them, "was a unanimous promise to bring decarbonized, decentralized energy to everyone and that this would transform the world bringing 'clean air, new jobs, warm schools, clean buses, pumped water and better yields of nutritious food'".
She also highlighted the intertwined nature of climate change and energy, adding that the UN community of nations has agreed to achieve net zero CO2 emissions by 2050 under the 2015 Paris Agreement. "Why are we not moving more quickly?" she reportedly asked, perhaps somewhat rhetorically.
Climate change, clean energy, and poverty
One person in 10 will still lack access to electricity come 2030 given the current pace of sustainable energy deployment globally, according to the World Banks's Global Tracking Framework 2017 report. The majority will be in Africa. In line with developments across power and energy industry and markets worldwide, ENEL sees
In line with developments across power and energy industry and markets worldwide, ENEL sees the use of emissions-free and low carbon distributed energy resources and information and communications technology as holding the keys to realizing the partners' aims.
"We are very proud to team up with UNIDO within the framework of SEforALL's electrification accelerator and help transform the power industry towards digitization, decentralization, electrification and an increasing contribution from renewables to achieve the objective of a more affordable and accessible energy," ENEL CEO and GM Francesco Starace said.
"We have already taken a leading role in supporting the UN Sustainable Development Goals to end poverty and hunger, promote more equal energy access opportunities and improve life conditions of a large part of the world's population. Our work towards achieving these goals entails a major responsibility because electricity can really make a difference and change people's lives."
In terms of progress, sustainable energy adoption is moving fastest in the power and energy sector. Applications and adoption in the transportation and consumer sectors have more broadly been more difficult to come by.
"The biggest failure the Global Tracking Framework revealed was that the current number of people still using traditional, solid fuels to cook increased slightly since 2011 to 3.04 billion. Those fuels are responsible for deadly levels of indoor air pollution that shorten the lives of tens of millions and kill four million, mainly children, every year according to the World Health Organization," IPS' Stephen Leahy reported.
Furthermore, the drive to address the issue seems to be a low priority, Leahy continued. "[B]y 2030 only 72 percent of the world will be using clean cooking fuels… In other words, 2.5 billion people – mostly in the Asia-Pacific region and Africa – will still be burning wood, charcoal or dung to cook their foods."
---
Images Credits: Bread for the World, courtesy Flickr; UNIDO; ISES; World Bank