This is another record-breaking year for renewable energy. In both the developed and developing world renewables are growing at a faster rate than ever before. In 2015, for the first time ever, renewable energy accounted for more than half of new power generation worldwide. Last year, we saw more investment capital being funneled into renewables than ever before and more installed capacity. Currently, renewable energy generates almost a quarter of the world's power demands.
Growth of renewable energy overview
According to the Renewables 2016 Global Status Report, in 2015 alone, a total of 153 gigawatts (GW) of net renewable electricity capacity was installed globally. Non-hydro global investments in clean energy hit $285.9 billion last year, eclipsing 2014's $273 billion. The investment trend away from fossil fuels and towards renewable energy was corroborated by a report from the World Bank. According to this report, investments in renewable energy made up more than half of all private investments in 2015. "Solar energy investments climbed 72 percent higher than the last five-year average, while renewables attracted nearly two-thirds of investments with private participation," the bank said in a statement. By sector, total investments in solar were $9.4 billion, $9.4 billion for wind, $2.9 billion for hydroelectric projects and $1.3 billion for geothermal energy.
According to Bloomberg's Jessica Shankleman, renewables such as solar and wind saw a record $329.3 billion worth of investments last year. New investments in wind and solar represent the majority of growth, accounting for more than three-quarters (77 percent) of new installations in 2015. Although wind energy currently accounts for more than half of all renewable power generation, global solar capacity is also growing fast.
In a June GWIR post, Thomas Schueneman cites data from the EIA's Electric Power Monthly that shows U.S. renewable energy sources provided almost 17 percent of total electricity generation in the first quarter of 2016 and non-hydro renewable generation was up 23 percent over the 1st quarter of 2015. Together, wind and solar energy generation increased by 32 percent compared to the same period in 2015.
Fossil fuels
Despite massive subsidies, fossil fuels are being flattened by market forces. The World Bank report showed that fossil fuel investment declined by 30 percent between 2014 and 2015.
The IEA recently announced that renewable energy sources have passed coal as the largest new source of electricity in the world. Spending on renewables has surpassed coal and natural gas globally. Investments in renewables in 2015 were more than double the amount spent on new coal and gas-fired power plants. For the first time, developing economies spent more than developed nations on renewables.
Christine Lins, the executive secretary of REN21, said, "The fact that we had 147GW of capacity, mainly of wind and solar is a clear indication that these technologies are cost competitive (with fossil fuels)."
Lins also said,
"What is truly remarkable about these results is that they were achieved at a time when fossil fuel prices were at historic lows, and renewables remained at a significant disadvantage in terms of government subsidies," said REN21 executive secretary Christine Lins. "For every dollar spent boosting renewables, nearly 4 dollars were spent to maintain our dependence on fossil fuels."
According to Electric Power Monthly, in the first quarter of 2016, natural gas continued to dominate U.S. electricity generation from fossil fuels, increasing 6.7 percent in the first quarter, while coal-fired power generation fell by almost 25 percent in the first quarter of 2016. Even in China, coal usage is down for the second year in a row.
As explained by Tom Randall in a Bloomberg article, "[fossil fuel] Prices have tumbled and investments have started drying up. The number of oil rigs active in the U.S. fell last month to the lowest since records began in the 1940s." According to Michael Liebreich, chairman of the advisory board for Bloomberg New Energy Finance (BNEF), the situation is going to get worse for the fossil fuels industry.
As Michael Klare wrote in a Foreign Policy Focus article titled, "The Old Oil Order Is Collapsing." He started the piece by saying: "If even Saudi Arabia is ready to move away from its reliance on petroleum, we're indeed entering a new world — one in which the titans of oil production will no longer hold sway over our lives." Klare points to the deep divisions among global fossil fuel energy producers. He also mentioned a number of bankruptcies that have wiped out billions of dollars in investment. He explains that the collapse of oil can be attributed to slowing economic growth globally and to what he calls the accelerating "green revolution" (i.e. renewable energy).
There have been many recent oil industry bankruptcies, including SandRidge Energy Inc. Many more fossil fuel firms are expected to succumb to a rapidly changing energy sector.
Declining costs
The growth in renewables and the decline of fossil fuels are being powered by falling prices in energy storage and production, particularly solar. Wind and solar prices have been falling at a rapid rate. Wind dropped by about one-third in the last five to six years, and solar has declined by 80 percent.
As Bloomberg reported in August, "fossil fuels [are] losing cost advantage over solar, wind."
Solar is expected to reach grid parity in 80 percent of the world by 2017.
Shankleman quotes Michael Liebreich, founder of the London-based research arm of Bloomberg LP, speaking of the "the improving cost-competitiveness of solar and wind power." Liebreich also said:
"The story should not be how falling oil prices will impact the shift to clean energy, it should be how the shift to clean energy is impacting the oil price."
Outlook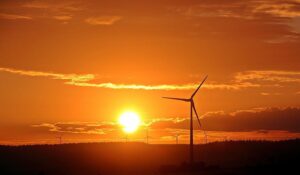 Renewables are expected to reach around 60 percent of new capacity by 2021, up 10 percent from their 2015 numbers. Green energy is expected to provide around 28 percent of electricity generation by 2021, (up from 23 percent in 2015).
By 2020, China will have 200 gigawatts of solar and by 2025, China is expected to double its wind-power capacity to nearly 350 gigawatts. Together China and India are expected to double the global amount of renewable energy in the next five years.
"In the next five years, the People's Republic of China and India alone will account for almost half of global renewable capacity additions," says the IEA. Renewables are forecast to provide just over a quarter of the world's electricity by 2021. In the US, renewable energy capacity was 121 Gigawatts (GW) in 2014, and it is expected to reach 182 GW by 2020.
Although these forecasts will not be able to keep us from surpassing the prescribed upper threshold temperature limit, if the past is any indication of the future, we may exceed expectations.
As stated in a Bloomberg article:
"The best minds in energy keep underestimating what solar and wind can do. Since 2000, the International Energy Agency has raised its long-term solar forecast 14 times and its wind forecast five times. Every time global wind power doubles, there's a 19 percent drop in cost, according to BNEF, and every time solar power doubles, costs fall 24 percent."
Forecasts continue to underestimate renewable energy growth. Electric Power Monthly shows how the EIA's forecasts have been way below actual results.
Those who have been watching the energy sector closely are bullish on the future of renewables and many expect that we will beat the forecasts.
"I've been working in this sector for 20 years and the economic case is now fully there," said Christine Lins. "The best is yet to come," she told BBC News.
---
Richard Matthews is a consultant, eco-entrepreneur, green investor, and author of numerous articles on sustainable positioning, eco-economics and enviro-politics. He is the owner of The Green Market Oracle, a leading sustainable business site and one of the Web's most comprehensive resources on the business of the environment. Find The Green Market on Facebook and follow The Green Market's twitter feed.