The problem of gas flaring
Gas flaring, or the venting of natural gas, is a common process associated with oil extraction and other industrial activities. In the United States, gas flaring has grown right along with the boom in "tight oil" plays such as North Dakota's Bakken field. Of course, flaring gas is not limited to the U.S. but is a waste of resources and harmful for the environment on a global scale.
The World Bank estimates that as much as 140 billion cubic meters of natural gas are flared every year in oilfields around the world, adding approximately 350 millions tons of CO2 emissions. Enough gas is flared worldwide to produce about 750 billion kilowatt-hours of electricity, according to the World Bank, more than the entire continent of Africa currently consumes annually.
Ideally, gas associated with oil extraction would be used as the energy resource it is and sold to consumers or used to generate power and resold as electricity. Typically recovering this gas requires heavy investment in pipelines, power plants and other expensive infrastructure, so it is simply vented off into the atmosphere.
Last April the "Zero Routine Flaring by 2030" initiative was launched with leadership from the United Nations, World Bank and a coalition of major oil companies and senior government officials from several oil-producing nations. The aim is to end the routine flaring of natural gas by 2030.
Working toward that goal are companies like Primus Energy, a gas-to-liquids technology firm that announced earlier this week the development of a proprietary technology solution for flared natural gas. The catalytic thermochemical process can transform flared gas into liquids directly onsite. Even in remote oil fields where no pipeline infrastructure exits, the gas is easily transported to market, where the otherwise wasted resource can be turned into products like gasoline, diesel and organic solvents.
"The opportunity to monetize flared gas through small-scale GTL options represents a huge opportunity for the industry," said Dr. Theo H. Fleisch, an advisor to the World Bank-led Global Gas Flaring Reduction (GGFR) Partnership. "There is a strong need for small-scale, modular, low-cost process units with flexible capacity and for readily useable products."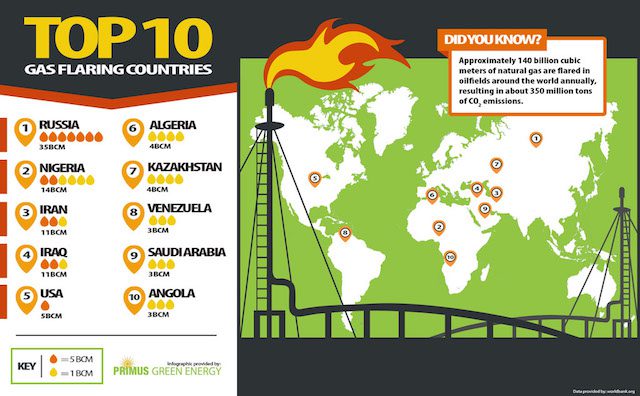 (click image for full size view)
Image credit: Tim Evanson, courtesy flickr