Use of distributed renewable energy technologies holds the promise of providing affordable, reliable access to electricity for billions, lifting people and communities out of poverty and setting countries firmly on a development path that's sustainable environmentally and socially, as well as economically.

Launching its most ambitious clean energy campaign to date, the United Nations (UN) General Assembly on June 4 officially proclaimed 2014-2025 the "Decade of Sustainable Energy for All."
Use of renewable energy is on the rise: solar, wind and other renewable energy resources met nearly one-fifth (19 percent) of world energy demand in 2012 and continued to grow in 2013, reaching its highest level ever, according to REN21, which presented its latest annual global status report on renewable energy at the inaugural Sustainable Energy for All Forum at UN headquarters in New York.
More than 700 government, business, civil society and representatives from international organizations gathered in New York last week for the Sustainable Energy for All Forum, which was convened "to assess progress on tens of billions of dollars in commitments made there, and to review innovative solutions to eliminate energy poverty and reduce greenhouse gas emissions," the UN explains in a press release.
UN SE4ALL meets in New York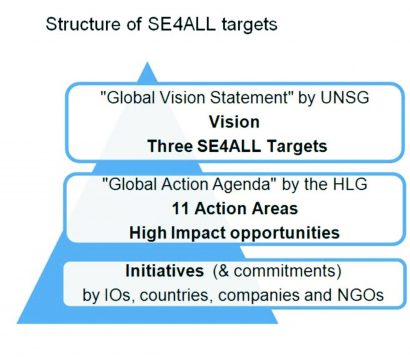 Some 20 percent of world population lacks access to electricity. Nearly 40 percent rely on traditional biomass – wood, coal, charcoal or animal waste – for light, heat and energy. That takes a heavy toll on human and ecological health and safety, the UN notes, "leading to over four million deaths a year, mostly women and children, from the effects of indoor smoke."
Now counting 83 nations as Sustainable Energy for All (SE4ALL) members. As of 2012, "billions of dollars in financing, investments and action for sustainable energy, against commitments made in 2012," were pledged during the inaugural SE4ALL Forum June 4-6.
Addressing attendees, UN Secretary-General Ban Ki-moon stated,
"Our common goal is in sight. We have seen that solutions exist and that people are implementing them."
'10 Years to Transform World Energy'
The Secretary-General launched the SE4ALL initiative in 2011. Its three primary objectives are to ensure universal access to modern energy services and double both global energy efficiency rates and the share of renewable energy in the energy mix.
The UN International Decade of Sustainable Energy for All will add impetus to the UN's sweeping initiative, which forms a core aspect of the Sustainable Development Goals (SDGs) that define the UN's strategic plans and focus post-2015.
Setting out focal points for realization of the Decade's aims, Kandeh Yumkella, the Secretary-General's Special Representative and CEO of SE4ALL, explained that "the initial two years of the Decade would be focused on a campaign for energy access for women and children's health.
"Energy issues are global issues," he stated. "But everywhere around the world, including in Africa, energy is a woman's issue. It can mean the difference between safety and fear, freedom and servitude, and even life and death. The world must come together to end energy poverty and ensure that the poor can manage their lives and thrive economically."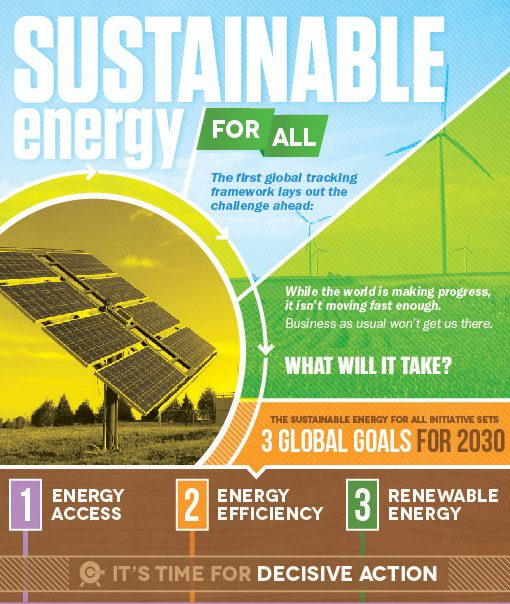 SE4ALL reports on progress
SE4ALL members reported on developments and achievements to meet their SE4ALL commitments during the three-day forum. Bank of America reported that it had thus far allocated $5.5 billion of a 10-year $50 billion SE4ALL commitment. BoA has also introduced an innovative clean energy financing product in the form of "green" bonds.
Working through President Obama's recently announced Power Africa initiative, U.S. State Department Special Envoy for Energy Carlos Pascual reported the U.S. is committing over $7 billion in financial support and loan guarantees for the first five years of the Power Africa initiative. The U.S. government program's partners have allocated "over $14 billion in finance through direct loans, guarantee facilities and equity investments."
Looking ahead to September, the Secretary-General encouraged attendees to prepare for the UN Climate Summit, which is scheduled to take place at UN headquarters on September 23:
"The more you bring in terms of concrete deliverables, the more we can achieve towards our objectives, and the better we can support global efforts to combat climate change and strengthen resilience. I count on all actors here today to deliver new and expanded commitments and partnerships that will transform the global energy landscape. We have the responsibility, and we have the power."
*Image credits: 1 & 2) UN Sustainable Energy for All; 3) Parmionova