The fast-emerging clean energy sector – wind and solar energy in particular – has been a bright spot in the U.S. economy, growing at well above average rates for well over a decade now. That growth has been skewed to a great extent, however. Growth in residential, commercial and municipal solar photovoltaic (PV) energy has been fastest in states whose legislatures have supplemented federal tax credits with renewable portfolio standards (RPS), net metering policies, ushered third-party PV systems financing providers into their state markets, and enacted their own tax credits.
North Carolina, for example, has one of the fastest growing rates of solar PV installations in the nation, growth that was triggered by revisions to state-level energy regulations and policies. Neighboring South Carolina is now looking to replicate that experience. Last week, South Carolina's House of Representatives unanimously passed a bi-partisan solar energy bill that, though comparatively unambitious from a national perspective, may nonetheless significantly boost solar PV adoption in the Palmetto State.
Explosive solar PV growth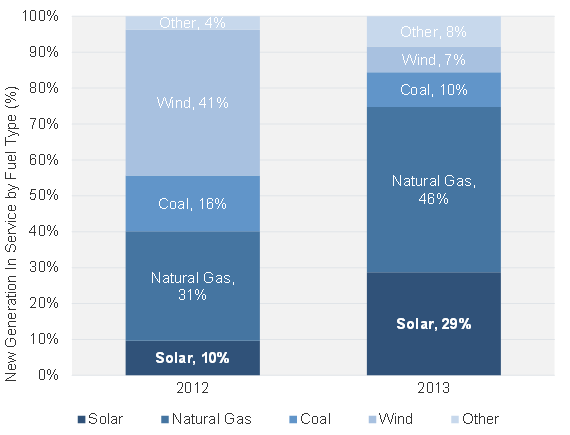 Continuing a string of extraordinary performances, 2013 was a "record-shattering" year for solar energy in the U.S., according to the latest annual report from the Solar Energy Industries Association (SEIA) and Greentech Media.
Solar PV installations increased 41 percent year over year across the U.S. in 2013, reaching 4,751 megawatts of clean, renewable power generation capacity. Forty-four percent of the annual total – 2,016 MW – was installed in 4Q alone, making it "by far the largest quarter in the history of the U.S. market, surpassing the second-largest quarter by 60 percent," according to SEIA-GTM's "Solar Market Insight Year in Review 2013." In addition to new solar PV installation, another 410 MW of concentrating solar power (CSP) came online last year.
"Today, solar is the fastest-growing source of renewable energy in America, generating enough clean, reliable and affordable electricity to power more than 2.2 million homes – and we're just beginning to scratch the surface of our industry's enormous potential," commented SEIA President and CEO Rhone Resch.
"Last year alone, solar created tens of thousands of new American jobs and pumped tens of billions of dollars into the U.S. economy. In fact, more solar has been installed in the U.S. in the last eighteen months than in the 30 years prior. That's a remarkable record of achievement," he added.
State-by-state, barriers to solar PV are coming down
Even states in the Southeast are benefiting from the clean energy transition, as wind and solar manufacturers take advantage of generous state government incentives to build factories in the region. The story is different when it comes to regional growth in solar and wind energy generation capacity, however.
Valuing the energy status quo and the interests of incumbent coal and fossil fuel power utilities over the potential benefits and advantages of cleaner, renewable alternatives, southeastern state legislators have resisted instituting renewable energy incentives that could reinvent energy production and consumption across the region. That's finally starting to change.
As noted, solar PV installation growth has been very skewed geographically towards states with aggressive clean energy ambitions. Over half of 2013's new solar PV systems were installed in California. That was more than the total capacity of PV installations in the nation in 2011, SEIA-GTM, points out.
There were solar PV bright spots in other states that have more recently instituted solar PV incentives and policies that are easing the way for solar PV to expand. New solar PV installations more than doubled year over year in Georgia, Massachusetts and North Carolina, which together saw 663 MW of solar PV capacity installed. North Carolina ranked among the top 5 states for new solar PV installations nationwide, along with California, Arizona, Massachusetts and New Jersey, according to SEIA-GTM's latest annual report.
Bringing South Carolina out of the energy "Dark Ages"
"Legislature makes right call on solar" reads the headline of a May 27 article in South Carolina's Aiken Standard. The headline refers to the unanimous, 105-0, passage in the state's House of Representatives of a compromise, bi-partisan bill that breaks through some of the regulatory and legislative barriers that have prevented solar PV from taking root and flourishing in the Palmetto state.
Passage of the bill – S.1189 – raises the the amount of solar power capacity state investor-owned utilities would need to bring online by 2021 to 2 percent of their average five-year peak power demand.
It also paves the way for fast-growing providers of third-party solar PV leases and financing to enter the South Carolina market, though the state's Public Services Commission needs to hammer out rates designed to compensate utilities for solar PV installations before that can go into effect. In addition, it raises the state cap on commercial, non-residential PV installations' generating capacity to 1-MW from 100-kilowatts (kW).
S. 1189's passage, Aiken Standard asserts, stands to benefit the state economically, socially and environmentally. As stated in the news report,
"By expanding opportunities for solar energy, South Carolina can attract businesses from around the world, protect the environment and lower energy costs for homeowners. It's a win-win for our state.
"It also brings South Carolina in line with other states in the South that allow easier expansion of solar power, North Carolina, for instance, is home to about 500 solar firms and employs an estimated 1,985 workers in the solar arena, according to the Coastal Conservation League. Those are jobs that South Carolina largely couldn't benefit from in the past because of tighter restrictions on solar energy."
Main image credit: wikimedia.org