Record growth in wind energy construction after an uncertain 2013
For American wind power, 2013 was the best of times, and the worst of times. On one hand, the American Wind Energy Association (AWEA) reports that 1.084 gigawatts (GW) of wind power came online in 2013, down fully 92 percent from the 13.131 GW of new capacity brought online in 2012.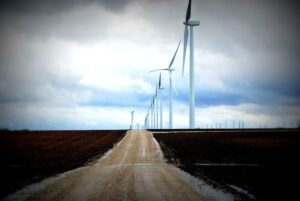 Not surprisingly, we can thank Congress for the precipitous drop in new wind capacity last year due to uncertainty and delay in dealing with the Production Tax Credit (PTC). We can all recall fondly the looming threat of the "fiscal cliff" that ushered in the start of 2013. The PTC was allowed to expire on December 31st 2012, extended the next day and signed back into law on January 2nd. By then the damage had been done for 2013. According to the AWEA when the PTC is allowed to expire the wind energy industry typically experiences a 70 percent to 95 percent drop-off in new installations. 2013 bore out this historical trend.
Originally enacted as part of the Energy Policy Act of 1992, Congress has extended the PTC five times and allowed it to expire 5 time, the last time on December 31, 2013. Given the "off" status of Congress' on-again, off-again approach to energy governance, you may think things don't look well for 2014 for wind energy growth. Fortunately, part of the American Tax Payer Relief Act of 2012, enacted in January 2013, allows eligible wind projects under construction before January 1st 2014 to qualify for the PTC.
Now the good news.
In it's fourth quarter 2013 report, AWEA reports a record 12,000 megawatts (MW) of new wind energy capacity under construction at the end of 2013. Of that, 10,900 MW started construction in the forth quarter. AWEA also reports at least 60 Power Purchase Agreements for nearly 8000 MW were established between utilities and corporate buyers.
Congress and the PTC – why bad governance must end
Even with a record number of new projects under construction, Congress needs to stop it's short-sighted policy for the PTC. Not only does it adversely impact renewable energy development, it hampers overall economic growth. According to the Union of Concerned Scientists, wind capacity more than tripled between 2007 and 2012, representing an average annual investment of $18 billion. There are now more than 550 manufacturing plants in 44 states producing 72 percent of all wind turbines and components in the United States. That's a 25 percent increase since 2006. Furthermore, the cost of generating electricity from wind power has fallen by more than 40 percent in just the past three years.
Now it's time for Congress to act responsibly on behalf of all Americans and offer long term support of the future of America and the new energy economy.
"Our current growth demonstrates how powerful the tax credit is at incentivizing investment in wind energy," says AWEA CEO Tom Kiernan. "Now it's up to Congress to ensure that growth continues by extending this highly successful policy."
Let your Senators know you want action to support U.S. wind energy growth!
Image credit: ClarkMaxwell, courtesy flickr