What the recently stalled polar vortex over much of the eastern half of the United States makes clear is that we humans are, by nature, not well-equipped to think globally. At least not when it comes to their physical surroundings. After all, cold is cold. So, for instance, if there are two inches of snow outside my Atlanta home and a city is brought to its knees because of it, then global warming must be false, right? Just look outside!
It isn't our fault. It's the way we were made. To respond to our immediate surroundings and shut out the rest. Long ago, in the mists of time, it was a matter of survival. Times have changed. Our ability to see beyond our own horizon, both in time and space, is critical for our survival. We've gotten a lot better at it. But for some, it falls apart when considering global climate vs. local weather.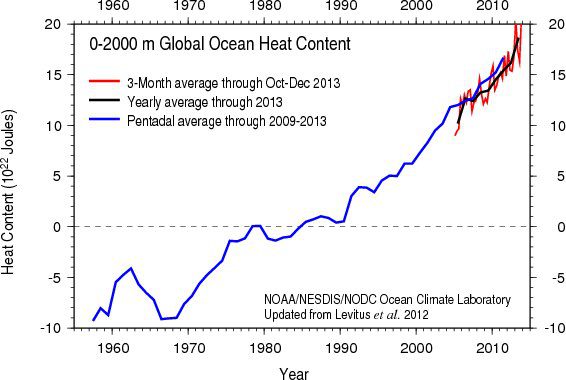 Ocean Surface Temperatures – Where Does the Heat Go?
All this by way of saying that, despite the repeated claims of a "global warming pause," the climate system continues to absorb more and more heat energy. If land surface temperature hasn't risen as much as some models predicted, where is all this energy going? Consider that oceans cover 71 percent of the planet's surface, and you'll have your answer.
In fact, oceans are 1000 times better at retaining heat than the atmosphere, and for the past several decades (not just the past few years), the oceans have absorbed more than 93 percent of the CO2 released by human activity.
Figures released by the National Oceanic and Atmospheric Administration (see the chart above), show a sharp rise in ocean surface temperatures in 2013. As noted in Skeptical Science, the recent NOAA data doesn't necessarily portend a sharp acceleration in global ocean temperatures due to "substantial year-to-year variation in heat uptake by the oceans." But it does remind us that heat energy in the global climate system continues to accumulate. There is no "pause" in global warming.
The significance of warming oceans is more than data points on a chart. From bleached coral to disrupted fisheries, acidifying oceans, and rising seas, the impact of heating oceans do not happen over some distant horizon. It is here and now, even as some dig out from a snowstorm.
---
Featured and secondary image credit: Skeptical Science
Ocean temperature graph: NOAA