Environmental advocacy and star power
What harm can there be from celebrities who provide material support, raise environmental awareness and encourage ecological action? We live in a culture of celebrity worship, we are bombarded with their images in advertising, film, television and online. Whether we are consumers of pop culture or not, there is no denying that celebrities hold a lot of sway with the general public. The fact is that television, movie and music personalities have vastly larger audiences than the most popular climate scientists.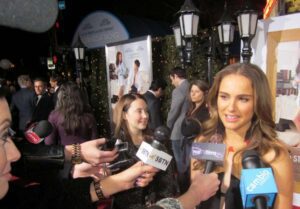 Many of these stars do more than pay lip service to green lifestyles, they show their concern for the environment by driving hybrid cars, living in green homes or changing their dietary habits. A few have even become stalwart activists.
Leonardo DiCaprio is an environmental advocate who serves on the boards of several environmental organizations. He co-wrote, produced and narrated the documentary film the 11th Hour, in which he called global warming "the number-one environmental challenge". He has been known to drive electric vehicles including a Toyota Prius, Tesla Roadster and Fisker Karma. He has also installed solar panels on his house. He has his own foundation that is dedicated to protecting the Earth's wild places. He is a passionate supporter of tigers and he actively works on protecting their habitats particularly in Nepal. In November 2010, DiCaprio donated $1,000,000 to the Wildlife Conservation Society at Russia's tiger summit. In 2011, DiCaprio joined the Animal Legal Defense Fund's campaign to free a tiger who was languishing at a Truck Stop in Louisiana. He has also advocated for a number of other environmental causes including access to clean water, renewable energy and forest preservation.
Matt Damon is a celebrity best known to environmentalists for his water advocacy. Recently in Davos, the movie star was honored by the World Economic Forum for his work as co-founder of Water.org, a nonprofit organization whose motto is "safe water and the dignity of a toilet for all." During his acceptance speech he said that Water.org is extending "water credit" to poor families so they can afford to install a toilet or connect their homes to a waterline that for them is "literally a lifeline." Water.org has already helped more than 5 million people, and he noted that McKinsey consultants have estimated his organization could reach 100 million by 2020.
Daryl Hannah is serious about her green activism and involvement. In February 2013, Hannah was arrested in front of the white house for protesting against the Keystone XL. Hannah has been an environmental advocate for years. She has participated in many environmental protests, including two tree sit-ins. In 2012, she spoke out against the fallacy of 'ethical oil', 'clean coal' and 'natural gas.' She is also the founder of the Sustainable Biodiesel Alliance (SBA), and sits on several environmental advocacy boards such as the Environmental Media Association (EMA), Sylvia Earle Alliance, Mission Blue and the Action Sports Environmental Coalition. Her website dhlovelife.com provides solutions for living a green lifestyle.
Ed Begley jr. is a longtime environmental advocate who lives in a solar-powered home and drives an electric car. Begley and his family are currently documenting the construction of a LEED Platinum-certified home for Begley Street, a television and Web series.
Cameron Diaz is another celebrity well known for her green activism. Her sustainability advocacy even attracted the attention of unlikely publications like Vogue magazine. Diaz also worked with Al Gore to raise awareness about climate change and she is allegedly one of the first celebs to buy an electric vehicle.
Hayden Panettiere has been involved in the fight to protect whales and other marine life since she was 15 years old. She filmed the slaughter of dolphins and the footage appeared in the acclaimed documentary The Cove. She is a spokesperson for the Whaleman Foundation, which works to protect whales and dolphins from the impact of climate change and fishing, and has also appeared before the U.S. Congress.
Edward Norton is very vocal about environmental concerns and he has served as the United Nations Goodwill Ambassador for Biodiversity.
Natalie Portman has a long history of ecological advocacy. She is a vegetarian who has designed a line of vegan shoes. She also participated in a documentary film about gorillas.
Sting is a longtime supporter of the Amazon's rainforests and he has established a charity called the Rainforest Foundation, which is dedicated to the protection of the rainforests and their inhabitants.
Brad Pitt has helped with rebuilding New Orleans by contributing green building materials after the city was ravaged by Hurricane Katrina.
Don Cheadle has taken action against the genocide in Darfur, and he has also worked with the United Nation on climate change concerns.
Alicia Silverstone owns a home made of sustainable materials, she's vegan and she has written a book about sustainability.
Pamela Anderson has advocated for animal rights and forest preservation. She has worked with the Inga Foundation which fights the "slash-and-burn" process of clearing land. She has also supported efforts to ban oil tankers off of Canada's west coast.
Mark Ruffalo is a vocal opponent of horizontal hydraulic fracturing (fracking), and he co-founded waterdefense.org to educate the public about fracking concerns.
Ted Danson is involved in ocean activism and he even started his own charity.
American actor Robert Redford and Canadian rocker Neil Young have been vocal opponents of Alberta's tar sands. Redford appears in a video released by the National Resources Defense Council saying the tarsands are "destroying our great northern forests at a terrifying rate" and "killing our planet." Neil Young put together a concert tour to help the indigenous people who are suffering from the effects of the tar sands in Alberta. He also speaks out against the Canadian government's unconscionable support for oil interests.
There are a host of other stars who have come out in support of environmental causes including:
Arnold Schwarzenegger
Bonnie Raitt
Christie Brinkley
George Clooney
Jessica Alba
Jon Bon Jovi
Julia Louis Dreyfus
Pierce Brosnan
Sir Paul McCartney
Tony Hawk
These are just a few of the many famous people who advocate for the environment. So how could there be anything wrong with stars who support environmental issues?
Even though our culture appears to venerate stardom, celebrities are treated like disposable commodities which are worshiped one day and forgotten the next. The hollow and transient nature of celebrity worship is at odds with the attitude required to foster global action. While the popularity of celebrities is superficial and fleeting, the environmental challenges we face demand that we very seriously take the long view.
We require the type of perspective that enables us to appreciate and act on behalf of that which is most important. Our veneration of people who are famous is a colossal bastardization of a balanced understanding of the fundamentally prescient elements that constitute a healthy planet.
Some celebrities clearly work hard on behalf of noble causes, while others may be involved for more selfish reasons. Celebrity is all about popularity, they engage a phalanx of press agents to advise them on what kind of public statements are the most politically correct for the demographic they are playing to. Few know what they really think. Regardless of what they may actually believe, people who are household names have been co opted by the public and as such, they are deprived of their identity apart from their characterizations in the popular media. They become two dimensional cutouts.
By contrast, our appreciation of climate change and other environmental issues requires that we go beyond glossy exteriors so that we can collectively get our heads around the scope of the challenges that confront us.
While some stars may know what they are talking about, others appear to have a passing interest that may be more about generating good press than genuine concern. That is not to deny that those in the public eye can sometimes help the average person to come to a better understanding of complex issues.
The point is that star worship is a reflection of our own shallowness. We do not really know these people, although we may come to know a two dimensional character they play, or what their publicists feel would be good for their careers.
It is a sad reflection on our society, but our preoccupation with celebrity is born from the same place as the impulse to exploit and dispose of our world. Our values and our priorities are out of balance and the veneration of stardom is a comes from the same mass confusion that created the ecological crisis we now face. Our interest in the lives of the rich and famous is part of the same mindlessness as the environmental nightmare we are perpetrating against ourselves and future generations.
A 2010 national survey by Rasmussen indicated that 84 percent of Adults admit that Americans pay too much attention to celebrity news and not enough attention to news that has real impact on their lives.
Our preoccupation with the habits of celebrities detracts from our appreciation of the issues that are most pressing. We do not have the luxury of willful negligence, nor can we afford to succumb to paralysis if we do pay heed to the most pressing concerns of our times. The fact is that when we feel overwhelmed or hopeless we commonly indulge in escapism which is at the heart of what celebrity worship is all about.
We need to get real and take a serious look at what is happening to the world we live in. How are we to come to terms with the work that needs to be done if we refuse to take a hard look at the facts?
Stars may be well meaning supporters of noble causes, but the way that the general public co opts their identity, artificially elevates them (and ultimately drops them), make them less than ideal representatives for environmental activism.
The cult of celebrity feeds into all that is wrong with our world. It is not that celebrities are inherently untrustworthy, the problem is that star culture exacerbates the valueless and fickle myopia of the public eye.
——————–
Richard Matthews is a consultant, eco-entrepreneur, green investor and author of numerous articles on sustainable positioning, eco-economics and enviro-politics. He is the owner of The Green Market Oracle, a leading sustainable business site and one of the Web's most comprehensive resources on the business of the environment. Find The Green Market on Facebook and follow The Green Market's twitter feed.
Image credit: Gordon Vasquez, courtesy flickr