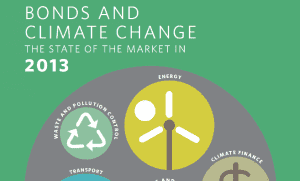 Climate change adaptation is a core aspect of President Obama's National Climate Change Action Plan. Developing the institutional framework and cost-effective private-sector financial mechanisms to stimulate and leverage public policies and programs remains a key hurdle that needs to be surmounted if the aims of the President's national strategy are to be realized, however.
Continuing a pioneering effort to monitor and assess "green" infrastructure financing and investments, the HSBC Climate Change Centre of Excellence commissioned and the Climate Bond Initiative produced, "Bonds and Climate Change: The State of the Market in 2013." The number of climate-themed bonds outstanding nearly doubled in 2013, researchers found, reaching some $346 billion.
Bonds for climate change adaptation
Focusing on seven climate themes – Transport, Energy, Climate Finance, Agriculture & Forestry, Waste & Pollution Control, and Water – the study corresponds "to our view of the emerging low-carbon, climate-resilient economy," the study partners state. "It is designed to ring-fence goods and services that enable the transition to low-carbon growth that is also resilient to the impacts of a changing climate."
Climate Bond Initiative used the seven climate change themes to screen the use of proceeds of bonds issued in markets worldwide and "arrive at a universe that is 100% aligned with the low-carbon, climate-resilient economy."
Researchers found climate change bonds were issued by corporations, financial institutions, municipalities, state-backed entities and project special purpose vehicles (SPVs). A second level of filters entailed verifying their selection using Bloomberg descriptions and revenue breakdowns "cross-checked with company disclosures and other market sources to confirm alignment with climate themes," the report authors explain.
According to the report's authors,
"Our updated 2013 estimate has reiterated the perception that the climate-themed bond market is not niche, lacking scale or liquidity."
Ultimately screening over 10,000 bonds from 2,300 issuers, 1,200 from 260 issuers with a total outstanding principal of $346 billion qualified across all seven climate themes. That's just shy of double – 99 percent higher – than the $174 billion estimate of the amount outstanding in 2012.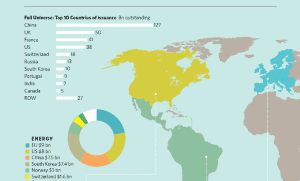 With a total $263 billion in climate bonds outstanding, the Transport sector accounted for the large majority, just over 70 percent. Climate bonds outstanding for the Energy ($41 billion) and Finance sectors ($32 billion) ranked second and third, respectively.
The Climate Bonds Initiative expects institutional investors – pension funds, insurers, etc. – will expand the range of criteria used to expand the range of climate-theme bonds they invest in. Two factors will add momentum and fuel growing investment in climate-theme bonds, they say: 1) growing focus on implementation of environmental, social and governance goals of the Principles for Responsible Investment (PRI) to fixed income portfolios, and 2) the need for institutional investors to adjust their portfolios in light of the expected advent of a 2015 international climate accord.
More than 1,000 companies representing some $32 trillion in assets under management have signed the PRI. Meanwhile, some "$22 trillion of assets under management fall undr the Global Investor Coalition on Climate Change that issues regular policy statements outlining investor requirements on international and national climate policy," the report authors point out.