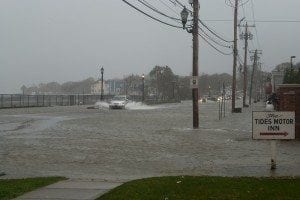 Denmark, Switzerland and Australia rank 1, 2 and 3 in terms of resiliency to climate change, according to the GAIN Index 2012, an open-access, open-source and open-data online tool that in addition to summarizing, scoring and ranking 176 countries' resiliency to climate change can be used by public and private sector planners and decision makers to better prioritize climate change adaptation investments.
Developed by the Global Adaptation Institute (GAIN), the second annual update of GAIN Index was launched October 15 at a public Princeton University seminar "to guide investments in the urgent need to adapt" to the challenges posed by climate change.
The 2012 GAIN Index is a new and improved version that in addition to analyzing data in water, food and agriculture, health and infrastructure – which was for the 2011 GAIN Index – now also includes new measures of vulnerability to do with human habitats and ecosystems services.
"In recent months, we have seen people suffering, companies shutting down and jobs lost due to weather events," GAIN Founding CEO Dr. Juan José Daboub stated at the October 15 launch event. "From Bangkok, Thailand, to the U.S., these challenges have lost lives and affected livelihoods.
Urgent: Better Means of Assessing, Enhancing Climate Change Readiness
"Flooding in Thailand shut down 800 factories employing 450,000 workers and computer hard drive prices increased 250 percent. Flooding in the Philippines forced 780,000 people from their homes. Hundreds were killed in Pakistan because of the floods in 2011 and 2012. Global wheat stocks will drop 13 percent due to record drought in Australia and the U.S."
We can now add what's predicted to be the largest storm ever to hit the US Eastern seaboard to the list of increasingly frequent extreme weather events occurring around the world—the hybrid storm that began as Hurricane Sandy. The storm is also predicted to be the most destructive in US history in terms of economic losses, which are estimated to range between $15- $20 billion in economic damages, with some estimating overall economic losses as high as $45 billion.
In its Readiness framework, GAIN seeks to assess "the ability of a country's private and public sectors to absorb additional investment resources and apply them efficiently towards increasing resiliency to climate change." Three categories of readiness are incorporated: economic, social and governance, with component scores weighted 40 percent, 30 percent and 30 percent, respectively.
The GAIN Readiness Matrix provides the basis for measuring and illustrating the comparative resilience of countries to climate change. Vulnerability to climate change is measured on the Readiness Matrix's 'Y' axis, while Readiness is measured along the 'X'.
A country's GAIN Index score is calculated by subtracting its overall Vulnerability Indicators' score from its overall Readiness Indicator score, adding 1 and then multiplying by 50. GAIN Index scores can range from 0-100, the higher the better.
GAIN Index trends are indicated by '+' (positive), '-' (negative) or '=' (unchanged). Positive or negative trends indicate improvement or decline in climate change resiliency, as defined in the index, of one standard deviation of the median for average of the latest three years compared to that for the prior three years. An unchanged GAIN Index score means that a country's change in resiliency from one period to the other lies within one standard deviation.
As GAIN explains, its vulnerability framework has two dimensions: (1) three core components—exposure to climate-related hazards, sensitivity to their impacts and the capacity to cope with those impacts—and (2) six key sector indicators—for water, food, health, ecosystem services, human habitat and infrastructure.
Fostering Enhanced Climate Change Resiliency
In an effort to promote and foster increased private, as well as public, sector investment in climate change adaptation and increasing resiliency, GAIN's purposely chose to make the index a free, open-source and open-data online navigation tool.
The Nature Conservancy (TNC) is one international NGO making use of it. "TNC is engaged in business planning for climate adaptation and disaster risk reduction across the 30+ countries and all 50 U.S. States that we work in," TNC Climate Adaptation Strategy Leader Frank Lowenstein elaborated.
"There isn't anything else out there like the GAIN Index that utilizes credible data to measure indicators in the vulnerability and readiness sectors. We value the work of this NGO and are looking forward to future developments which can grow its utility across markets, industries and more."
Information repositories such as the GAIN Index are especially valuable to insurance companies, which are on the front lines, at least financially, when it comes to climate change.
"We see the GAIN Index as an important tool in gaining market insight around the world, as we are looking at how the risks are increasing and where the trends are taking place such as higher food consumption," Zurich North America Climate Product Officer Ben Harper explained.

"These pockets of growth show how economies and countries are increasing in wealth – for example, North America is projected to increase by some 2 percent annually in the next 10 years, whereas countries in Africa will increase by around 200 percent."
ANN MEET VIDEO from GAIN on Vimeo.
Image credit: CasualCapture, courtesy flickr