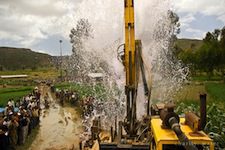 In his twenties, Scott Harrison was a party promoter in New York City and a self–described "arrogant jerk." That all changed when he got a glimpse of how the handful of the 1 billion people who struggle each day to find clean water. Harrison founded Charity Water, bringing his promotional skills to bear on the global water crisis, instead of the tony clubs of New York City.
For the past five years Charity Water has helped launch 4282 water projects bringing clean water every day to 2 million people.
The following two videos help tell the story of Charity Water, and what you can do to help.
Scott Harrison: Water As Luxury from L2 on FORA.tv
2011 — charity: water's year in review. from charity: water on Vimeo.