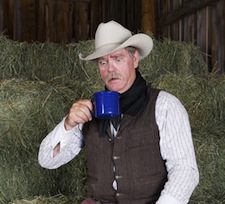 Recent research results from Kenya's International Centre of Insect Physiology and Ecology (ICIPE) highlighting the threat from climate change to the world's coffee crop has been spreading. The proliferation of the coffee berry borer, a major insect pest, threatens coffee growers and roasters in parts of East Africa and South America, as well distributors who source coffee berries from these areas. The number and distribution of the coffee berry borer is likely to increase out to 2050, according to an AllAfrica news report.
This and other threats to the world's coffee producers has prompted Starbucks and others to take global warming and climate change as more imminent threats. In response, the coffee multinational is working a plan to generate carbon offsets through its sustainable agriculture initiatives.
The early stages of the process is already underway. Starbucks is expanding its existing coffee-carbon project to measure the carbon mitigation potential of operations at sites in Sumatra, Indonesia and Chiapas, Mexico.
More urgent action
Through the Coffee and Farmer Equity (CAFE) practices program, it's also working with Conservation International to offer methods for farmers to sequester carbon and encourage reforestation and sustainable stewardship, Starbucks' head of environmental impact, Jim Hanna, said in a ClimateWire interview.
"Eventually, we want to quantify that so that those coffee farmers can also become carbon farmers," Hanna explained.
To date, Starbucks' sustainability efforts have focused on its retail outlets, which include establishing Leadership in Energy and Environmental Design (LEED) standards for retail shops with the US Green Building Council.
Hanna realized that the company could have an even greater impact on its "carbon footprint" by developing the means to assist its farmer suppliers to reduce their greenhouse gas emissions and adopt mitigation efforts. Deforestation accounts for some 20% of global greenhouse gas emissions.
"If you look at a map of deforestation around the world and you look at a map of coffee, it's the same map," Hanna was quoted as saying the ClimateWire interview. "We have a huge opportunity within our regions to also impact on deforestation."
Mitigating business and climate change threats
Hanna noted that three more sites were added to Union of Concerned Scientists' Climate Hot Map recently, while speaking at a UCS briefing last week on the effects rising temperatures and extreme weather has and could have on the world's coffee crop.
"What we need to do is minimize business risks," Hanna said.
Most of Starbucks' premium arabica coffee beans are grown in Central and South America. Coffee farmers in Colombia are facing a reduced harvest this year as a result of heavy rains stripping off the crop's coffee flowers.
Awareness of the business risk inherent in climate change and global warming are rising along with global temperatures and the frequency of extreme weather events. In August, institutional investors in the J.M. Smucker Co. demanded that management disclose risks to its supply chain as a result of climate change, ClimateWire noted in its report.
Image credit: Rodale.com