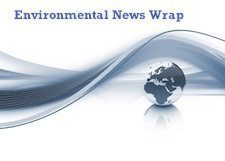 GlobalWarmingisReal contributor Anders Hellum-Alexander wraps-up the climate and environmental news headlines for the past week:
Nanotechnology is replacing copper wires with carbon tubes for electrical cables. Science pays off once again!
After pledging to be the "Greenest Government Ever" independent analysis shows the UK will not achieve carbon emission reductions that it set for itself. Of course there is still time for politicians to save the day and increase funding for environmental programs and subsidies.
Even manufacturing plants for solar panels can be toxic, in China local citizens near one such plant are protesting the excessive water pollution.
Cargill has recalled more ground turkey for salmonella contamination in the US. Even though the USDA is ostensibly there to protect us, you need to ask yourself how much you know and trust a source of food before you buy it. It wasn't until last week that the USDA decided to test ground beef for a strain e. coli that makes people sick but is different from the strain that is deadly.Car maker Hyundai is banking on continued global reliance on oil and is placing its bets on plug-in hybrids instead of full electric vehicles. Hyundai is playing it safe, its good for their business but bad for our global environment.
Greenpeace turns 40 years old!
The World Wildlife Fund recommends that we develop Forest Bond Programs to finance the global conservation of our forests.
Forest Ethics explains the Canadian Tar Sands and why we should not be getting our energy this way.
More people people in the US believe that climate change is real than last year, could it be due to Republicans pushing obvious lies so strongly (or maybe the impacts of a changing climate are becoming clearer no matter what the Tea Party says)?