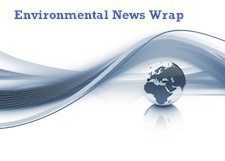 GlobalWarmingisReal contributor Anders Hellum-Alexander wraps-up the climate and environmental news headlines for the past week:
Solydndra and the Chinese PV solar market:

Solyndra, the made-in-the-USA solar panel company, recently filed for bankruptcy after taking a $535 million loan guarantee from the US government. The political response is to pressure Obama to restrict the importation of Chinese made solar panels due to the Chinese's economic model that involves more state support than companies are offered in the US, as well as the accusation that China is unfairly undervaluing its currency. At the same time the US government just signed a deal with SolarCity to install PV solar on 160,000 military homes coupled with a $344 million loan aid. The renewable energy industry is operating in a lot of uncertainty which makes any market difficult, but an article in Reuters claims the renewable energy industry will prevail.

Here are two more advances in solar technology; one incorporates seaweed to improve PV modules, the other improves the safety and decreases the cost of lithium batteries.
Greenpeace claims that, in terms of sourcing energy, Apple has the dirtiest data centers, while Yahoo! seems to have the cleanest. Google claims to have highly efficient data centers and plans to source 30% of its energy from renewables by the end of 2011.
Finally it hits the media – natural gas does not offer the great environmental benefits that the industry claims. Switching to a natural gas economy for the next 20 years while we ween ourselves off of oil will have little to no mitigating effect to climate change, it was all truly just an industry-backed marketing campaign.
Speculation on oil raises the price of oil. In 2011 speculation in the oil market is a group of people selling oil to each other in large quantities under the assumption that if they just keep selling it to each other for slightly high prices they will all continue to make more money. Sounds great.
The Nigerian government is setting lending rules that are unfavorable to companies with poor environmental records.
China has taken so much control over rare-earth-minerals that the US, Japan and the EU will meet to create plans to decrease the long term demand for rare-earth-minerals in high-tech products.
More oil spills, always more oil spills, and the US government is proving unable to regulate effectively. It seems that government does not work when you under-fund it.