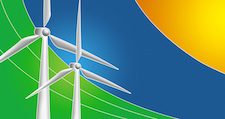 In this post Richard Matthews finishes his review of the just-released CleanTech Job Trends report from Clean Edge, LLC. See yesterday's post for part one.
Clean-Tech Manufacturing Issues
Clean-tech manufacturing is creating jobs and, led by China, Asia is booming. China, South Korea, Japan, Taiwan, and Singapore are all hiring thousands of factory workers for the solar, wind and battery industries. European clean-tech leaders like Germany and Denmark continue to expand their clean-energy manufacturing capacity.
China and other nations are providing heavy subsidies for their clean-tech manufacturing sectors. In the US, President Obama is attempting to boost clean tech manufacturing with some $50 billion of the $800 billion federal stimulus package, devoted to the development of clean-tech factory jobs.
Thanks in part to the stimulus money, clean-tech manufacturing jobs are being created around the US including nine advanced electric-vehicle battery plants that have opened in hard hit states like Michigan. Thanks to stimulus money previously shuttered, old plants are being reborn and making clean-tech products. Other companies that are helping to grow clean-tech in the US include Colorado based Abound Solar, Spanish wind-turbine generator company Ingeteam and Spain-based Talgo.
Obama is spending billions to keep the US involved in the future of manufacturing for the transportation industry. He understands that there are significant opportunities in profits and jobs for those on the forefront of advanced transportation technology development and product manufacturing. By 2012, the White House hopes to have 39 high performance auto battery factories in the US accounting for 20 percent of the world's output. The government has also become a major financier of up-and-coming electric car companies. In January, the DOE closed a $465 million loan to electric-car maker Tesla Motors. Three months later, the DOE closed a $528.7 million loan with Fisker Automotive. These loans are intended to create several thousand US manufacturing jobs and save or create thousands more jobs for domestic parts suppliers.
However, it is very hard for the US to compete with overseas labor costs, particularly in the developing world. The report cites the Apollo Alliance estimates that some 70 percent of the content of US clean-energy installations is manufactured overseas. Trade statistics tell the tale. According to a January © 2010 Clean Edge report, the US trade deficit in renewable-energy products soared 1,400 percent to almost $5.7 billion between 2004 and 2009.
The Collaborative Future of Manufacturing
The report also looks forward by saying that, "the global landscape for clean-tech manufacturing jobs won't always be a clear-cut 'us vs. them' search for the cheapest labor costs. Unusual cross-border partnerships, which may be the wave of the future, are starting to form."
They cite the example of the August deal between companies in the Chinese wind turbine industry and the United Steelworkers that will employ up to 1,000 US workers in Nevada. That deal followed a late 2009 agreement between the United Steelworkers and Spain-based Mondragon Internacional to help establish manufacturing cooperatives in the U.S. and Canada.
Mexico Well Positioned
With a combination of cheap labor and geographic proximity, Mexico "could solidify its permanent foothold in the industry's labor landscape." Companies like Japan-based Sanyo, BP Solar, Jabil Circuit, and Energy Conversion Devices are all increasing their solar manufacturing presence in Mexico. The wind industry is also increasing its presence in Mexico. German equipment manufacturer Liebherr recently constructed a production facility in Monterrey where it will employ 180 and make driveline components for the North American wind-energy market.

Feed-In Tariffs Spur Job Growth
The report also reviews the importance of government policy to address the fact that newer clean technologies are not yet cost-competitive with the mature and long-subsidized fossil-fuel technologies. The report cites a policy known for creating world-leading markets, it is the performance incentive known as a feed-in tariff, or FIT.
FITs are policy mechanisms that offer stable payment to generators of renewable electricity through long-term purchase agreements. FITs are responsible for approximately 75 percent of global PV and 45 of global wind power development.
The best illustration of the success of FIT is in Germany. Thanks to FITs, Germany is now a world leader in PV production and deployment. Other FIT successes are documented in the UK and Ontario, Canada. According to the report, the FIT policy mechanism has proven powerful and will continue to play an integral role in clean-tech job creation and product deployment.
Energy Efficiency in the US
In the US, with annual electricity consumption rates roughly twice those of the European Union and five times the world average, energy efficiency measures are low laying fruit. Energy efficiency is the most cost-effective way to create jobs on a dollar investment basis.
5 National Policies and Initiatives for Clean-Tech
To help clean tech job creation, the authors of the report suggest five national policies and initiatives:
Deploy aggressive national renewable portfolio standards with "teeth."
Support green infrastructure development.
Implement – and be sure to enforce – efficiency, fuel, and emissions rules and standards.
Establish green banks, bonds, and funds.
Implement carbon taxes.
Clean-tech represents a significant opportunity for business creation and long-term competitiveness. Corporate giants around the world continue to embolden their clean-tech activities via investments, new divisions, and M&A activity. While the report clearly states that clean-tech continues to make valuable contributions to the global economy, it is equally clear that some nations are better positioned than others to benefit. Even countries hit hardest by the recession are using the growth of clean-tech to launch themselves back into the black.
Despite the political rhetoric about outsourcing jobs offshore, cost-cutting is king in the world of clean-tech manufacturing. For developed countries, this often means moving jobs to emerging markets with lower labor costs like China and Mexico. However, as the report suggests, there are important steps that can be taken to stake a US claim to clean-tech leadership.
Clean-tech is becoming an increasingly cost-competitive, mainstream offering. Despite the many challenges facing the sector, clean tech offers some of the largest growth opportunities on the global economic horizon. Although President Obama is a clean-tech advocate, the rest of the nation will need to increase its support for clean-tech if it is to cash in on the windfall of profits and jobs.
——————
Richard Matthews is a consultant, eco-entrepreneur, sustainable investor and writer. He is the owner of THE GREEN MARKET