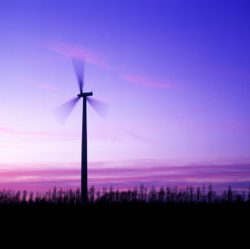 By Sarah Laskow, Media Consortium blogger
(reposted with permission)
Senate Majority Leader Harry Reid (D-NV) released an energy and oil spill bill this week that has no carbon cap, no renewable energy standard, and no chance of changing the course of America's energy future. And yet, despite Senate setbacks, the clean energy economy is growing.
A new report, funded in part by the State Department, says that renewable energy use worldwide is at a "clear tipping point,"as Yes! Magazine's Brooke Jarvis writes. That growth comes despite inaction in Washington. Around the world, electric companies are drawing power from sources like wind and solar, entrepreneurs are building new renewable energy generators, and governments are pushing for renewable energy use.
Congressional inaction
Over the course of 2010, the Senate's ambitions for climate legislation have dwindled to almost nothing. A session that began with the Kerry-Boxer bill—a close-enough approximation of the House-passed American Clean Energy and Security Act—ended with Reid's energy bill, which drops all efforts to cap carbon.
Reid's bill would hold oil companies accountable for spills by lifting a liability cap. It also includes incentives for home energy efficiency. The bill leaves out provisions that could have made a difference to America's energy future: It does not require states to tap renewables for a portion of their electricity generation, and it does not limit carbon generation in any sector of the economy.
At Mother Jones, Kate Sheppard recalls Rep. Nancy Pelosi's (D-CA) tough fight to get the House measure passed, and reports that the House Speaker is still willing to push forward on this issue:
Pelosi has tried to remain positive. "This is an issue the Senate can't walk away from," Pelosi told the crowd of liberal activists at Netroots Nation last Saturday. Even if the Senate has, for now, Pelosi is optimistic. "It cannot be ignored," she tells Mother Jones. "I have confidence in the issue."
Alternative alternatives
Not everyone is mourning the death of cap-and-trade legislation. At The Nation, Charles Komanoff, an environmental economist, argues for an alternative method of tamping down carbon use and promoting alternative fuels.
"Virtually everyone who truly desires emissions reductions agrees that putting a (rising) price on carbon is essential," Komanoff writes. "But there's another, better way to do that, one that also would deliver an economic bonus to a majority of Americans."
The fee-and-dividend system Komanoff is promoting increases the price of emitting carbon, but instead of leaving it up to companies to manage costs through carbon permits—as in a cap-and-trade system—this program sends checks to consumers, who make their own choices about energy use.
Komanoff focuses on a bill drafted by Rep. John Larson (D-CT) as a good example of this type of system; Sen. Susan Collins (R-ME) and Sen. Maria Cantwell (D-WA) also have a bill floating around that relies on fee-and-dividend. It seems unlikely, but perhaps interest in fee-and-dividend will revive now that the Senate has dropped carbon cap-and-trade programs.
International implications
With all the back and forth in Washington, it's easy to forget that the decisions our Senators from South Carolina or Nevada make affect the entire world. The Senate's failure is also holding back the entire international negotiation process on curbing global carbon levels.
Inter Press Service's Eli Clifton reports: "Already, the upcoming meeting of international negotiators in Cancun, in November, is being described as an increasingly unlikely venue for the signing of an international climate agreement."
Outside the political arena, however, the world's consumers are signaling that they're ready to embrace renewable energy. Going back to Yes! Magazine, Jarvis digs into the report on global energy use:
In Europe and the U.S., renewable energy grew faster than fossil fuel energy in 2009—for the second year in a row. Sixty percent of new electricity generation in Europe and more than half of new energy in the U.S. came from renewable sources. China built more than 37 gigawatts of renewable power generation capacity, more than any other country. "If this trend continues," the report notes, "then 2010 or 2011 could be the first year that new capacity added in low-carbon power exceeds that in fossil-fuel stations."
Clean energy at home
Even in the politically backward United States, clean energy projects are humming along. In Albuquerque, for instance, scientists are working to create "solar cells that are much smaller, cheaper and more efficient than the current technology," as Public News Service reports. (They're also bendable!)
"The new technology is also less picky about needing direct sunlight without any shading," reporter Eric Mack writes. "That means it could perform better in mobile applications, such as on the exterior of a car, because orientation towards the sun would be less of a concern."
And in Iowa, a program to fund alternative energy projects has started to move. "Program manager Bill Haman says it was a slow-go at first," according to another piece from Public News Service's Tom Joseph. "But things have picked up in recent years, and the applicants are pursuing just about any alternate energy venture under the sun."
Indeed, environmentalists' last-ditch effort to get some half-useful provision into the Reid energy bill centered on a renewable energy standard that would, in theory, increase clean energy use. But as Andrew Restuccia of the Washington Independent reports, the limited standard favored in the last days of negotiation may not have pushed clean energy use to grow any faster. And stripping the standard out of the bill may not have even helped Reid: Restuccia also reports that Republicans won't vote for the bill anyway. Even some Democrats are turning away.
In other words, for now, clean energy will have to make its own way.
—————-
This post features links to the best independent, progressive reporting about the environment by members of The Media Consortium. It is free to reprint. Visit the Mulch for a complete list of articles on environmental issues, or follow us on Twitter. And for the best progressive reporting on critical economy, health care and immigration issues, check out The Audit, The Pulse, and The Diaspora. This is a project of The Media Consortium, a network of leading independent media outlets.