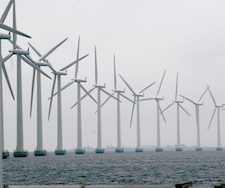 Every day a huge amount of oil is spewing into the Gulf of Mexico in the US. This is symbolic of the energy choices that we have made to date. And it shows the dramatic implications of that energy choice. But those energy choices are also having devastating impacts which are less visual but more damaging. Rampant global warming is impacting countries around the world as a result of our energy and development choices. The oil catastrophe is a wake-up call for the United States and should be a wake-up call for the world.
We have a choice between a clean energy future or a dirty energy past. As countries end the most recent round of negotiations on an international effort to address global warming, they face the same choice. Do they choose to agree to implement a clean energy future or do they choose to have the same old stale debates hold us back. I hope that they choose the clean energy choice.
A Spirit of Cooperation. Here in Bonn, Germany countries signaled a clear willingness to work together in a spirit of cooperation to address this critical challenge. While the key stumbling blocks for a strong outcome in Cancun, Mexico weren't resolved, there were constructive movements on a number of the key elements of international efforts. For example, countries narrowed the differences around how best to guide the needed global finance to help developing countries deploy clean energy, reduce deforestation, and adapt to the impacts of climate change. A number of countries both recognized the critical need for strong transparency and accountability provisions in the international agreement, and showed a willingness to find a reasonable path forward.
Much work remains to be done on these and other issues, but countries showed a willingness to roll-up their sleeves and find a path forward. I hope that spirit continues as we go into Cancun, Mexico. The Chair of the session released a text which can help countries focus on those choices and create the conditions for them to cooperate on a path forward.
The Path Ahead is Clear. Now countries need to go home and create the political conditions for action both at home and internationally. All countries need to move forward on actions to reduce their emissions, mobilize the necessary resources to aid developing countries in moving to a low carbon economy and adapt to the impacts of climate change. Both need to be done in a transparent and accountable manner so that we can ensure that we are really moving on the path that countries committed to undertake. These are elements that they committed to in Copenhagen and they must deliver upon them.
The US must pass a comprehensive climate and energy bill this year.
They need to come back to Bonn, Germany in August ready to tackle the key outstanding issues and begin to agree on the elements of a strong path forward in Cancun, Mexico later this year.
Much work remains and time is unfortunately not on our side, but it can and must be done. We have no choice.
Cross-posted from the Natural Resources Defense Council Switchboard.
—————————–
Jake Schmidt is the International Climate Policy Director at the Natural Resources Defense Council where he helps to develop the post-2012 international response to climate change (for more information see his blog or follow him on twitter). And help track countries actions to reduce their global warming pollution.