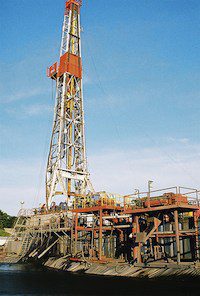 Filmmaker Josh Fox's Gasland journey began when Natural Gas drilling came to his area of the Catskills/ Poconos region of upstate New York, offering lucrative deals to he and his neighbors for drilling access to the "Saudi Arabia of natural gas" that theoretically lay beneath many regions of the U.S.
The old adage "if it sounds too good to be true – it is" motivated Fox to embark on a 24 state journey in an attempt to find out the reality behind the offers of money and assurances that granting access to their land would be safe.
What Fox found as he visited rural landowners all across the country was shocking: water that can be lit with a match right out of the sink; residents in drilling areas suffering chronic illness with common symptoms across disparate locations across the country; enormous pools of toxic waste killing cattle and vegetation; well blowouts and gas explosions. These are just some of the "absurd and astonishing revelations" Fox consistently found all across the country. A new country called GasLand.
Watch the following videos to get a taste.