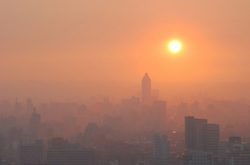 A report just released by the United Nations Environment Programme incorporating the latest peer-reviewed science indicates that climate change is already outpacing projections from the 2007 assessment reports of the Intergovernmental Panel on Climate Change (IPCC).
Even if climate policies thus far proposed by world leaders are implemented and followed through, the earth could still see an average global temperature rise of 7 degrees Fahrenheit by the end of the century. Climate disruption will be broader and more rapid than expected even as recently as 2007, including a precipitous decline in glaciers and Arctic sea ice, increased ocean acidity, and a persistent drought in the American southwest – all happening now.
We are headed to very serious changes in our planet, and we need to appreciate how serious it is," UNEP Executive Director Achim Steiner said.
The report is a compendium of 400 major peer-reviewed studies released in the past three years in Earth Systems and climate. The information is crucial to help shape the understanding of what is at stake as world leaders meet in Copenhagen this December to press for an international climate treaty to replace the Kyoto Protocol expiring in 2012.
The current targets set by the 192 participating nations will likely not be enough to limit warming to within the 3.6 degree F (2 degree Celsius) rise in temperature from preindustrial levels generally thought necessary by scientists to avoid the worst consequences of climate change.
The optimistic scenario now is more likely a rise in the neighborhood of 4 degrees Celsius, says Robert Corell of the Climate Action Initiative, who helped decide which research to include in the UNEP report. "We're headed to a 4-degree [Celsius] world, by all the best estimates of IPCC models," he said. "We don't want to go there."
UNEP's Steiner maintains hope, believing that a growing realization aided by maturing climate science will help lead the world down a different path than it is now heading.
We are on the verge of negotiating an agreement in Copenhagen that could put the world on a different trajectory," Steiner said.
The report builds off the 2007 assessment, Steiner said, with scientists now better able to document how climate change ripples through ecosystems. "We are beginning to connect the dots," he said.
Scientists working on the report said they plan to provide ongoing updates to the research as new studies become available in the run-up to Copenhagen.
Download the full report from the UNEP (pdf – 70 pages)
Sources and further reading:
UNEP press release – report synopsis
Atlanta Journal-Constitution
ClimateWire (subscription)