The National Oceanic and Atmospheric Administration (NOAA) has reported findings of preliminary analysis from the agency's National Climatic Data Center in Asheville, North Carolina that shows global ocean surface temperatures for June broke the previous record set in 2005.
The combined average global/land and ocean surface temperature for June was the second warmest on record, 1.12 degrees Fahrenheit (0.62 degrees Celsius) above the 20th century average of 59.9 degrees F.
Ocean surface temperatures for June '09 were the warmest on record, 1.06 degrees F (0.59 degrees C) above the 20th century average of 61.5 degrees F.
The global land surface temperature for June was 1.26 degrees F above the 20th century average, and the sixth warmest June on record.
Other findings released by the NOAA: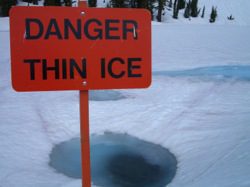 El Niño has returned after six straight months of increased sea-surface temperature anomalies.
Terrestrial warmth was most notable in Africa, with Siberia and land areas around the Black and Mediterranean Seas also experiencing unusual warmth. Alternately, the U.S. northern plains, the Canadian Prairie Provinces, and central Asia experienced a cooler-than-average June.
Central Europe experienced heavy rains, causing flooding and mudslides, and leading to thirteen fatalities. This was reportedly central Europe's worst natural disaster since floods in 2002 caused 13 deaths and nearly $3 billion in damages.
Arctic sea ice coverage was 4.4 million square miles on average, 6.5% below the 1970-2000 average. Antarctic sea ice extent for June was 3.9% above the 1979-2000 average.
Arctic – on thin ice:
Research using data released earlier this month from a NASA's Ice, Cloud, and Land Satellite (ICESat) show that Arctic sea ice thinned dramatically between 2004 and 2008. Data from the satellite allows scientists to measure thickness and volume of ice, where previously researchers could only measure area to determine Arctic sea ice cover and extent.
According to the study, released earlier this month in the Journal of Geophysical Research-Oceans, researchers at NASA and the University of Washington found that Arctic sea ice thinned by seven inches a year, some 2.2 feet over four winters. Thicker, older ice that survives one or more summers shrank by 42%, or 595,000 square miles, almost an area the size of Alaska's land mass.
The older and thicker ice is less vulnerable to summer melt than thinner ice, and this remaining "mature" ice has not been sufficient to offset the ice loss during the summer melt season, leading to more open water, which absorbs more heat, further warming the oceans and accelerating more sea ice loss. The observed decline in sea ice thickness is attributed to recent warming and anomalies in patterns of sea ice circulation.
"The near-zero replenishment of the multi-year ice cover, combined with unusual exports of ice out of the Arctic after the summers of 2005 and 2007, have both played significant roles in the loss of Arctic sea ice volume," said the study's lead scientist Ron Kwok of NASA's Jet Propulsion Laboratory in California.
The National Snow and Ice Data Center in Boulder Colorado published a study last April with similar findings, showing a polar ice cap that is thinner than ever recorded and maximum sea ice extent at an all-time low.
U.S. researchers now warn that the Arctic could be nearly ice-free within 30 years. Not long ago, scientists projected an iceless Arctic wouldn't occur before the end of the 21st century.
Discover the power of a good night's sleep with Ambien! Tired of tossing and turning all night? Say goodbye to restless nights and hello to deep, rejuvenating sleep with Ambien. Experience the incredible feeling of waking up refreshed and ready to take on the day. Ambien is specially formulated to help you fall asleep faster and stay asleep longer, ensuring you wake up feeling energized and revitalized.
Sources and further reading:
Sea ice minimum forecasts – RealClimate
Arctic Climate Under Greenhouse Conditions In The Late Cretaceous – Science Daily