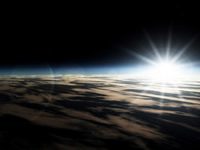 The original Earth Day, founded by Senator Gaylord Nelson, is to this day considered one of the most phenomenal moments in American democracy.
Said the American Heritage magazine in October of 1993:
…on April 22, 1970, Earth Day was held, one of the most
remarkable happenings in the history of democracy…
In the spirit of Earth Day then, let's let our political leaders in Washington now that it is time to lead.
Effectively rising to the challenge of climate change and environmental sustainability will take all facets of society. Earth Day is not only a celebration of the earth, but also of the power of the human spirit to change what needs to be changed. And to have the courage to try.
Call the Capital Switchboard at 202–224–3121
Let them know you expect leadership from the national government:

A moratorium on new coal-burning plants

Renewable energy

Carbon-neutral buildings

Protection for the poor and middle class in the new green economy
You can also take action and sign the Sky Petition from the Earth Day Network.